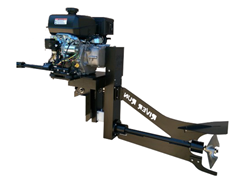 With these motors, salt water, shallow water, even swamps won't slow you down.
Dickson, TN (PRWEB) January 09, 2017
OnlineOutboards.com and River Run Marine have entered into a partnership to sell online and ship direct to customers the world's first salt-water-rated surface drive motor.
Surface drive motors, also known as "mud motors," "shallow water motors" and "shallow water outboards," are specially made for shallow bodies of water like wetlands, swamps and mud.
OnlineOutboards.com will make available three River Run Marine surface drive motors from the 7 hp motor for smaller (8-12 ft.) boats, the 9.5 hp for medium-sized (10-14 ft.) boats, and the 14 hp for larger (14-16 ft.) boats. All motors are salt-water ready, feature a one-of-a-kind neutral and reverse option, are made from aircraft grade aluminum, and include many other unique features. Free shipping is available, and there's no sales tax outside of Tennessee.
"True outdoorsmen and outdoorswomen—from duck hunters to anglers to weekend explorers—won't let anything stop an epic day outside," said Steve Herbert, sales manager of Cumberland Watersports. "With these motors, salt water, shallow water, even swamps won't slow you down." He added, "Many of our customers don't know they can get these motors shipped directly to their homes, so we're offering free shipping for a limited time."
Onlineoutboards.com, a division of Cumberland Watersports, specializes in portable outboard motors for boats and other watercraft. The family-owned business is one of the nation's largest dealers of outboard motors and has been in operation for more than 20 years.
Florida-based River Run Marine is a leading manufacturer of surface drive outboard motors. They also offer SUP or paddle board electric outboard motors, kayak outboard electric motors and canoe outboard electric motors. Learn more at riverrunmarine.com