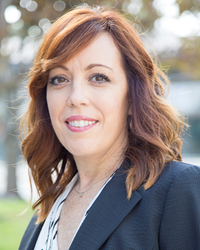 I appreciate the entrepreneurial spirit our organization was built on under Randy's leadership
Santa Ana, California (PRWEB) January 04, 2017
THINK Together, one of the largest educational nonprofits in California serving K-12 public schools, announced that Tia Dwyer has been named their Chief Operating Officer. Dwyer will work closely with Chief Executive Officer, Randy Barth, and the Executive Team as a full partner in THINK Together's mission, vision and growth.
Dwyer will be working with Barth to establish THINK Together objectives, paying attention to key performance criteria with accuracy, urgency and insight, and lead strategic goals for the organization. Ensuring that proper leadership and support is provided to the Regional Leaders and their teams is imperative so that the numerous program models delivered across hundreds of sites will have consistent quality. Dwyer will work with regional leaders across the state and the executive team on an ongoing basis to review services being offered and to develop new programs as needs for THINK Together school customers emerge.
"Tia holds such an integral role at THINK Together and has done significant work in her former position as Chief Program and Operations Officer. As THINK Together moves into our 20th year in 2017, I look forward to seeing her work and her team continue to flourish under her leadership as Chief Operating Officer," says Barth.
Dwyer, a credentialed teacher who holds a Bachelor's degree in music from University California, Irvine and a Master's degree in education, oversaw the expanded learning programs in the Lawndale School District prior to joining THINK Together. Dwyer joined THINK Together in 2009 as Director of Learning Programs where she led the building of THINK Together's nationally recognized summer learning program in Santa Ana. It wasn't long before she was promoted to Orange County's Regional General Manager, overseeing THINK Together's largest region in both students served and revenue. Dwyer was promoted to Chief Program and Operations Officer (CPOO) in 2015 where she directly supported regional leaders as well as High School and Early Literacy and Math programs.
Dwyer believes her new position will allow her to tie together the mission and the people at THINK Together and is excited about her newly developed role for the organization. She will be working more closely with the Human Resources team and learning new aspects of THINK Together while creating strategies to support their good work.
"I believe 100% in what we are working to accomplish and have dedicated my professional career to working with undeserved students supporting their academic endeavors," says Dwyer. "I appreciate the entrepreneurial spirit our organization was built on under Randy's leadership and the opportunity to work collaboratively in shaping the future of THINK Together."
THINK Together is celebrating their 20th anniversary in 2017 and Dwyer is excited to celebrate the vision of where THINK Together is headed for the next 20 years and is grateful for the opportunity to contribute to such impactful work.
"The people who work at THINK are amazing, I have so much respect for each person who comes to work every day to support the mission of THINK. I am looking forward to continuing the journey with the best teams across our organization," says Dwyer.
THINK Together
THINK Together is a nonprofit organization collaborating with communities, parents, teachers, administrators and other stakeholders to help transform and galvanize the K-12 educational system, creating excellence and equity for all kids. THINK Together is California's largest provider of Expanded Learning Time programs. Through its affiliate, Principal's Exchange, THINK Together also provides research, professional development and consulting to underserved schools. Combined, THINK Together and Principal's Exchange serve over 130,000 students at 451 locations across 45 school districts from San Diego to San Mateo counties. Partnering with school administrators and teachers, THINK Together's dedicated team of more than 2,500 employees are helping students statewide reach their full potential. THINK is an acronym: Teaching, Helping, Inspiring & Nurturing Kids. For more information, call 888.485.THINK or visit THINKtogether.org or Facebook.com/THINKTogether.