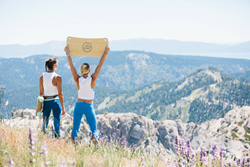 no fear of falling over and getting hurt
San Jose, CA (PRWEB) January 17, 2017
Pono Ola, a mind-body wellness firm on a mission to help people cultivate a balanced, peaceful and healthy lifestyle, announced today the official launch of its much-anticipated Pono Board: a re-invented fitness and anti-fatigue balance board that engages the body and frees the mind.
In development for over a year, the patented Pono Board is the world's only exercise balance board built to reduce vertical movement by isolating motion on the horizontal plain. This exclusive design -- which is dubbed Infina Motion -- naturally engages, stimulates and strengthens core muscles in a simple and easy manner that is superior to both ergonomic standing desk mats and wobble boards.
At the same time, because the Pono Board's bamboo platform shifts laterally while remaining parallel to the ground, it has none of the drawbacks associated with conventional balance boards and trainers, including the distracting, disorienting and potentially dangerous "see-saw" and "teeter-totter" movements that many people justifiably dislike.
"The idea for the Pono Board was inspired by playing on the sand at the beach," commented Jeff Olson, who co-founded Pono Ola with his wife Danielle. "While moving around is a little harder than on solid ground, it's energizing and fun rather than difficult and deflating. And since there's no fear of falling over and getting hurt, people can think about their workout, exercise form, task at hand, mindful breathing, simply enjoying the present moment, or anything else they wish."
Added Danielle Olson: "We've designed the Pono Board to embrace this positive experience and feeling, so that people can enjoy all of the fitness and anti-fatigue benefits of a balance board, but without having to worry. It's the best of both worlds, and people who give the Pono Board a try can't believe how good it makes them feel within seconds."
Pono Board is easily adjustable, which makes it suitable for people of all ages and skill levels -- from casual users who prefer soft and gentle movements, to extreme cross trainers who want to augment their comprehensive fitness program. It's also an ideal and affordable solution for fitness club owners, yoga teachers, certified personal trainers, fitness affiliates, health and wellness consultants, and social fitness influencers and experts.
Each Pono Board features natural bamboo deck in choice of ball color, and is emblazoned with the stylish, signature Pono Ola logo. They can be securely purchased online at https://ponoola.com/product/pono-board, and shipping is complimentary within the continental US.
For all other details, including wholesale purchase inquiries, partnership opportunities, and media/interview requests, email jeff(at)ponoola(dot)com or use the company's online contact form at https://ponoola.com/contact-us.
About Pono Ola
Pono Ola loosely means balanced living. The company believes that everyone can feel great and live balanced with the help of balance boards and video content for your body, mind and life. Learn more at https://ponoola.com.