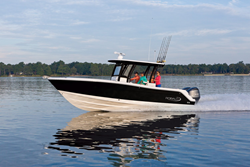 The boat show reminds us all that the boating season really IS on the way
Saint Joseph, MI (PRWEB) December 29, 2016
Pier 33 Marina of St. Joseph Michigan will be debuting three new models from Robalo Boats at the 2017 Progressive Insurance Chicago Boat, RV & Strictly Sail Show, which opens Wednesday January 11. The list of first-time-appearances includes the Robalo R302 Center Console, R247 Dual Console and R226 Cayman Bay Boat.
With a boat building heritage of over 40 years, the Robalo name has always been synonymous with high quality, superior ride and an abundance of top-notch fishing features. Now joined with Chaparral Boats since 2001, Robalo is also known for delivering personal comfort and outstanding ergonomics across the entire model line-up. Model categories include center console boats from 16 thru 30 feet, dual console boats from 20 thru 24 feet, the Cayman bay boat series from 20 to 24 feet and popular walkaround cruiser models at 26 and 30 feet.
Robalo's R302 Center Console boats a 10' 6" beam and is powered by a pair of Yamaha 300 HP four-stroke outboards and includes a joystick piloting system and complete Garmin electronics. The R247 Dual Console is one of the most versatile outboard boats available, with equal capabilities for fishing, family fun and watersports. The R226 Cayman is the market leader in its category, offering incredible stability and performance, plus an abundance of in-shore and off-shore fishing features.
"The boat show reminds us all that the boating season really IS on the way" said Pier 33 General Manager Tighe Curran "and it's the best wintertime opportunity to get a look at an astounding assortment of new boats".
The 2016 Progressive Insurance Chicago Boat, RV & Strictly Sail Show opens Thursday January 11 and runs through Sunday January 15. Pier 33 has posted essential show information on-line at pier33.com.
The Pier 33 display will feature a selection of models from Robalo including not just the models noted above, but also annual best-sellers such as the R200 Center Console, R207 Dual Console and R222 Center Console.
Pier 33 is a dealer for new boats from Robalo and Chaparral. Pier 33 is a full-service marina, with used boat sales, yacht brokerage, 170 docks, complete boat storage and boat repair services and boater conveniences such as Launch on Command and Hook 'n Go options available in-season. Pier 33 serves boaters from a wide region, with boating clients based in Michigan, Indiana, Illinois, Ohio and Wisconsin.