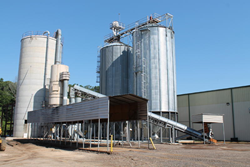 West Monroe, LA (PRWEB) August 25, 2016
A private investment firm will liquidate a former West Monroe business and all its assets next month via lender ordered auction. Maas Companies Inc, a company specializing in the selling and management of plants, equipment, real estate and special assets of Rochester, Minnesota will conduct the auction. The auction includes: Bayou Wood Pellets' 14,000 Sq. Ft. Industrial Building located on 3.0 Acres and the 130,000 Ton/Year Wood Pellet Equipment selling separately. The sale will be held on-site at 1315 Highway 15 in West Monroe, Louisiana, on Tuesday, September 20, 2016, at 11 AM.
Equipment highlights include: three MUNCH Pellet Mills; two LA MECCANICA Pellet Mills; SCAFCO CORPORATION Pellet Storage Silo; MFS-STORMER Pellet Storage Silo; HAYES & STOLTZ Elevator Leg; SCAFCO CORPORATION Elevator Leg; RICE LAKE SURVIVOR Pit Less Truck Scale; two BLISS Hammer Mills; and a 2014 VOLVO L70G Loader with TAG 7 cu. Ft. Bucket, see website for complete listing. Most of the equipment was purchased new in 2008.
Potential buyers are encouraged to attend the open houses:
Tuesday, August 30 ----- 10 AM – 5 PM
Monday, September 19 ----- 10 AM – 5 PM
Tuesday, September 20 ----- 9 AM – 11 AM
Other times by appointment.
Details of the sale are available at the auction website, woodpelletauction.com or by contacting the auction company directly at 507-285-1444.
###