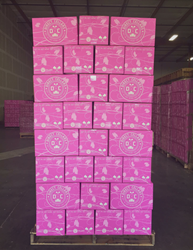 The investment in costs is well worth the awareness we will create.
Fort Myers, Florida (PRWEB) October 12, 2016
Today at Headquarters, Direct Cellars announced their new Corporate Social Responsibility campaign to raise consciousness for the life threatening disease of breast cancer. During the month of October, all of the wine club boxes are designed in pink to create awareness for the program.
"More than 80% of our Direct Cellars corporate team members are women. As the second leading cause of new cancers in females, raising awareness of Breast Cancer is a cause that is near to our Company's heart. The investment in distribution costs is well worth the awareness we'll create." said Peter Sperling, Chief Executive Officer at Direct Cellars.
Positive Customer Impact:
Customers are already posting photos at an increased pace across all social media outlets. Direct Cellars LLC, a national wine club, established a track record early in their business of empowering women as business leaders in the company. "We feel that women leaders will be the strongest representatives for the growth of the company." stated Paula Batz Chief Operating Officer. The boxes are shipped from their fulfillment center as several pallets of wine in pink boxes from top to bottom will be sent to thousands of wine lovers across America.
About Direct Cellars LLC.:
Direct Cellars, LLC originally operated as a traditional wine club satisfying its members, but reports that since changing to a direct sales business model they have experienced exponential growth in members throughout America. DirectCellars.com provides incentives to both customers and members to sample wines from all over the world and earn rewards for referrals, Direct Cellars has found that leveraging the inherent social nature of the wine experience was the key to its success. Members are joining nationwide from all walks of life in record setting numbers.
Founded in 2014, Direct Cellars is a privately held corporation offering memberships in the US as a sole competitor in this space utilizing this direct marketing model. The company offers a range of products and services designed to serve vineyards, producers and customers as a wine sampling club which is sweeping the nation.
###
Direct Cellars and Direct Cellars.com are registered trademarks or trademarks of Direct Cellars in the United States.
The names of actual companies and products mentioned herein may be the trademarks of their respective owners.
For more information, press only:
Robert Shockey
Marketing and Communications Director
844.256.9300
social(at)directcellars(dot)com