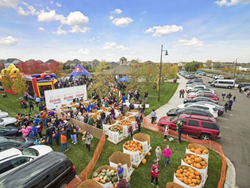 This is the third year we've done this, and it gets bigger each time. Our whole team thinks of this as a fun way to give back to the community, and we can't wait to make history this weekend by creating the longest pumpkin line in the world, right here in
Blaine, MN (PRWEB) October 21, 2016
The third annual Great Pumpkin Giveaway is set to take place this Sunday, October 23rd from 11 AM to 2 PM at the National Sports Center in Blaine. The free event, hosted by the Kris Lindahl Team from RE/MAX Results, is expected to draw upwards of 15,000 people, including a judge from GUINNESS WORLD RECORDS™.
The Kris Lindahl Team, in an effort to give back to the community, hopes to make this their biggest year yet. Participants will be given a pumpkin, and get a chance to view the longest pumpkin line the world has ever seen. Kris Lindahl said of the hopeful record, "This is the third year we've done this, and it gets bigger each time. Our whole team thinks of this as a fun way to give back to the community, and we can't wait to make history this weekend by creating the longest pumpkin line in the world, right here in Blaine."
The festivities also include plenty of other fun for all ages. The Teddy Bear Band will provide a concert for kids. There will also be bouncy houses, bungee trampolines, train rides, face painters, and balloon artists. Adults will enjoy the tasty offerings from eight food trucks, along with a beer truck featuring several types of beers. Football fans can watch the Minnesota Vikings play the Philadelphia Eagles on the big screen at noon, and hockey fans will get to meet Nordy of the Minnesota Wild. Attendees will also have the chance to win an $18,000 custom Victorian playhouse provided by Hoffman Weber Construction, and an ATV provided by the Kris Lindahl Team.
"Two of our core values are, Be Kind and Be Generous. That's why we put this event together as a team each year. We want to give back to the community who has done so much for each of us." The Kris Lindahl Team and Spacecrafting, along with AAA Movers, Pacific Union Financial - The Nathan Raich Group, and Hoffman Weber Construction will each donate $1,000 to Spare Key, an organization that provides housing grants and assistance to families with critically ill or injured children, if the world record for the longest pumpkin line is met. On top of that, the donation of 10,000 pumpkins to give away to attendees and achieve the world record comes from The Kris Lindahl Team. In addition, 10% of food proceeds will go to the organization, along with any other generous donations from event goers. The event is free for attendees, and is expected to raise thousands of dollars for Spare Key.