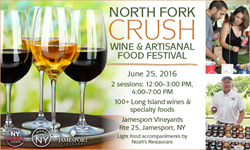 We're excited to return to Long Island wine country to showcase the region's incredible wines and offer wine lovers a very up close and personal experience.
New York, NY (PRWEB) May 24, 2016
New York Wine Events will host its 2nd Annual North Fork Crush Wine & Artisanal Food Festival at Jamesport Vineyards in Jamesport, New York on Saturday, June 25, 2016. Festival-goers can choose from two sessions, Afternoon: 12-3pm or Evening: 4-7pm.
The North Fork event is among the multiple seasonal tastings New York Wine Events presents throughout the year in Manhattan, Brooklyn, Long Island, and New Jersey. The festival will feature over 20 wineries from Long Island and beyond with 100+ wines to taste, light bites including cheeses, charcuterie, crudités, breads, and crackers, plus numerous sampling tables from an array of artisanal food companies. Guests can meet the winemakers and key vineyard personnel, learn all about the varietals directly from the source, and purchase any North Fork and New York State selections they like by the bottle or case. They will also be able to take home their complimentary custom wine tasting glass as a memento.
"We're excited to return to Long Island wine country to showcase the region's incredible wines and offer wine lovers a very up close and personal experience. Sipping wines in a beautiful setting, with the winemakers right there to provide tasting notes and more, while enjoying a sampling of local artisan fare really shows all the fine things this region has to offer," explains Sam Kimball, Founder, New York Wine Events.
Wine tasting tables located throughout the event site will include a diverse selection of quality reds, whites, and sparking wines from the North Fork's top winemakers including Brooklyn Oenology, Gramercy Wines, Harbes Winery, Jamesport Vineyards, Lenz Winery, Lieb Cellars, Long Island Merlot Alliance, Martha Clara Vineyards, Osprey's Dominion, Palmer Vineyards, Raphael, Reilly Cellars, Saltbird Cellars, Sannino Bella Vita Vineyard, Sherwood House Vineyards, Suhru Wines, plus Lakeland Winery (Finger Lakes, NY), Laureate Wine Imports (Slovenian wines), TMRW (Canadian icewines, Caribbean, and Italian wines), and KAS Spirits (Putnam County, NY). Many participating wineries will also be selling bottles and wine by the case to those who enjoy their selections.
Select artisan food companies from the region and beyond will be sampling offerings including chocolates, baked goods, jams, and more, and will also sell full sized items to enjoy at home. Participating artisan food makers to date include COPIA Granola, Darcy's Delights, Dove Chocolate Discoveries, Farmer's Kitchen, Hampton Chocolate Factory, Salsa Di Parma, Peconic Preserves, and Vines & Branches. Additional sponsors include Cutco, The Wining Hour, North Fork B&B, plus authors Eileen Duffy with her North Fork wine book "Behind the Bottle" and Mark Torres with his thriller "A Stirring in the North Fork."
"It's great to have New York Wine Events return to our vineyard after last year's successful North Fork Crush Wine & Artisanal Food Festival," notes Ronald B. Goerler, Jr., President, Jamesport Vineyards, host winery for the event. "This is a tremendous opportunity for North Fork and East End wineries promote our region and raise awareness about the outstanding quality and diversity of our locally produced wines and artisanal fare."
Tickets for the North Fork Crush are on sale now priced at $69 and up (depending upon time of purchase). Travel packages via chartered motor coaches, hotel discounts, and group discounts are also available; see web site for complete details. The event takes place rain or shine, under tents to shield guests from the elements. Advance ticket purchase is highly recommended.
For more details or to purchase tickets to the North Fork Crush Wine & Artisanal Food Festival, visit NewYorkWineEvents.com.
About New York Wine Events
New York Wine Events is a comprehensive web site and event directory committed to bringing together New York Metro wine and food lovers, whether it is at one of their own wine festivals, at the other New York area food and drink events appearing on their pages, or through their in-depth articles about New York's vibrant food and drink scene. Visit NewYorkWineEvents.com.