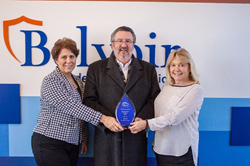 "Belvoir Federal is honored to receive this award, especially during the economic challenges of last year. We are proud of our products and continually strive to deliver exceptional services to our members," stated Tisha Wallace, Chief Operations Officer
Woodbridge, VA (PRWEB) February 09, 2016
Belvoir Federal Credit Union was presented with The Platinum Award for exceeding $20,000,000 in 2015's mortgage loan production from Credit Union Mortgage Association, Inc.
Belvoir Federal was one of three credit union partners of [Credit Union Mortgage Association, Inc. to receive a top producer award for 2015 loan closings. Credit Union Mortgage Association, Inc. has sixty-five total credit union partners, which they work with to assist credit unions and members with the mortgage lending process nationally.
"Belvoir Federal is honored to receive this award, especially during the economic challenges of last year. We are proud of our products and continually strive to deliver exceptional services to our members," stated Tisha Wallace, Chief Operations Officer at Belvoir Federal Credit Union.
Sean Connell, CU Coordinator at Credit Union Mortgage Association, Inc., stated, "Thank you to Belvoir Federal for being an outstanding partner. Your organization is one of three to receive this award, which doesn't come easily, especially in today's economy. It is throughout these types of relationships that we are able to better serve credit union members with superior service and products."
When consumers are considering purchasing a home, a great option to consider is a trusted financial advisor, such as their credit union. With rates being historically low, it is a great time to buy or refinance. For more information regarding Belvoir Federal's mortgage programs, visit http://www.belvoircreditunion.org/borrow/home-equity/mortgages#/tab/mortgages.
About Credit Union Mortgage Association, Inc. (Credit Union Service Organization)
Credit Union Mortgage Association, Inc. is a full-service mortgage company, locally owned and headquartered in Fairfax, VA, and serving the entire United States. Credit Union Mortgage has revolutionized the process to make it quick, easy, and more convenient for members. For more information, visit http://www.cumortgage.net or contact Sean Connell at sconnell(at)CUmortgage(dot)net.
About Belvoir Federal Credit Union
Belvoir Federal is a member-owned, full-service financial institution that provides the foundation for the financial success of our Members. Belvoir Federal, a not-for-profit organization, has served the Fort Belvoir and U.S. Armed Forces community since 1946 and named 2014, 2015, and 2016 Best Places to Work in Virginia. For more information about Belvoir Federal, please visit http://www.BelvoirCreditUnion.org.
###