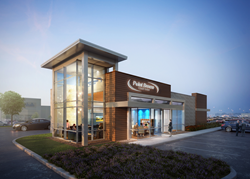 "This barrier-free member service experience with enhanced technology will encourage an even greater level of member service," said Bernie McLaughlin, president of Point Breeze Credit Union
HUNT VALLEY, Md. (PRWEB) August 17, 2016
Point Breeze Credit Union announced it will open a new office in Owings Mills at the Foundry Row shopping center. The office is expected to open in early 2017 at the corner of Reisterstown Road and Painters Mill Road in front of the new Wegmans supermarket.
With the new space, the credit union will adopt a new dialogue-banking model to foster a personalized, relationship-focused style of service for its members. This conversational service approach takes away the barriers of traditional teller lines, counters, and cash drawers. The experience will be more interactive and new in-branch technology will offer more member convenience and a faster financial solution.
"The design of the new office will make serving our members even easier," said Bernie McLaughlin, president of Point Breeze Credit Union. "The new office won't look like a traditional credit union lobby by design. Instead, service workstations will enable our employees to better engage with our members and provide an even greater level of personalized service to get the member what they need quicker and easier."
When entering the 2,300-square-foot office, members will be personally greeted by a member service specialist who, in most cases, will be able to handle all of the member's needs without delay or referral to other staff members.
"Whether it's free checking, mobile banking or lending, people want to be served quickly and efficiently," said McLaughlin. "And this barrier-free member service experience with enhanced technology will encourage an even greater level of member service."
Point Breeze Credit Union plans to hire management staff and several member service specialists to operate the office. Currently, the credit union has more than 96 employees serving more than 51,000 members and 500 employer groups. This will be Point Breeze's fifth office, with others in Hunt Valley, Rosedale, Bel Air and Westminster (opening in late 2016).
About Point Breeze Credit Union:
Point Breeze Credit Union is a member-owned, not-for-profit financial cooperative serving more than 51,000 members and over 500 employer groups. The growing credit union, with total assets exceeding $750 million, currently has offices in Hunt Valley, Rosedale and Bel Air and plans for expansion into Westminster in 2016. Members also have access to over 5,000 shared branch locations across the United States. Individuals who work, worship or volunteer within 20 miles of a Point Breeze location are eligible to join. Point Breeze offers consumer and business checking, savings and loan services. Federally Insured by NCUA. Equal Housing Lender. For more information, please visit http://www.pbcu.com.