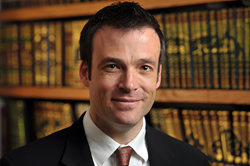 Reading, PA (PRWEB) March 11, 2016
Gabriel Said Reynolds, Ph.D. will present "Islam, the Catholic Church, and the Future of the World," for the 2016 Hesburgh Lecture at Alvernia University, March 31. Sponsored by Alvernia's Holleran Center for Community Engagement and the Notre Dame Club of Reading, this year's Hesburgh event will take place at 7 p.m., in the McGlinn Conference and Spirituality Center.
Each spring, Alvernia University hosts a Hesburgh Lecture that both embodies the university's core values and brings attention to topics that are relevant to today's local and global communities.
Gabriel Said Reynolds, Ph.D., professor of theology at Notre Dame, is the author of "The Qur'an and Its Biblical Subtext" (Routledge, 2010) and "The Emergence of Islam" (Fortress, 2012).
At Notre Dame, Reynolds teaches Foundations of Theology, Islam and Christian Theology, The Qur'an and Its Relation to the Bible, The Holy Land and Islamic Origins. Outside of Notre Dame, he has conducted research and delivered lectures in cities throughout the Middle East, including Ankara, Cairo, Jerusalem, Beirut, Damascus and Tehran.
Since 1986, the Hesburgh Lecture Series has brought a taste of Notre Dame's academic excellence to Alvernia's campus courtesy of the Notre Dame Club of Reading, which supports the event. The lectures perpetuate the example of President Emeritus Rev. Theodore M. Hesburgh as a lifelong learner and further the Alumni Association's mission by providing meaningful opportunities to Notre Dame alumni, parents and friends.
Hesburgh lectures are presented by Notre Dame faculty members on topics related to art, architecture, business, communications, contemporary social issues, economics, environment, ethics, government, history, law, social concerns and many more. Annually, almost 5,000 alumni, parents and friends attend a Hesburgh Lecture.
ALVERNIA is a thriving university that empowers students through real-world learning to discover their passion for life, while providing the education to turn what they love into lifetimes of career success and personal fulfillment, helping them make the world a better place. Situated on a scenic 121-acre suburban campus in historic Berks County, Pa., the university of more than 3,000 students is conveniently located near Philadelphia (60 miles) and within an easy drive of New York, Baltimore and Washington, D.C.