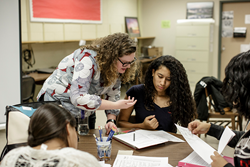 Truly, the legacy of Alvernia's VISTA projects rise to the top of our list in terms of quality of project impact, strength of supervisor(s) leadership, and VISTA resilience and creativity
Reading, PA (PRWEB) March 04, 2016
Alvernia University's Holleran Center for Community Engagement has been selected by Pennsylvania Campus Compact and the Corporation for National and Community Service (CNCS) to host four PACC*VISTA members in 2016-17 for projects focusing on K-12 education and nutritious food education and access. Alvernia was the only school chosen to receive more than two VISTAs for the coming year.
The PACC*VISTA program places volunteers at colleges and universities across Pennsylvania in order to develop and support community service, service-learning and civic engagement programs. Its members work as professionals and emerging leaders aimed at making a difference in the communities in which they serve.
"These projects will substantially enhance Alvernia's impact on the community, as well as further developing positive experiential learning opportunities for our students," said Jay Worrall, director of the Holleran Center at Alvernia University.
Two VISTAs will advance the university's South Reading Youth Initiative through a Millmont-Alvernia Educational Partnership and Tyson-Schoener Educational Outreach Project. A third volunteer will work with Reading Collegiate Scholars, and a fourth will work on nutritious food education and access programming in partnership with ReDesign Reading.
"Truly, the legacy of Alvernia's VISTA projects rise to the top of our list in terms of quality of project impact, strength of supervisor(s) leadership, and VISTA resilience and creativity," said Char Gray-Sorensen, MDiv, Ph.D., executive director of PA Campus Compact.
VISTA (Volunteers In Service To America) was founded in 1965 as a national service program to fight poverty in America. In 1993, VISTA was incorporated into the AmeriCorps network of programs. The PACC*VISTA grant seeks to develop or enhance campus-community efforts to eradicate poverty; to create, develop, or sustain reciprocal, mutually beneficial partnerships between the campus and community organizations, leaders, and members.
Since 2007-08 Alvernia's Holleran Center for Community Engagement has hosted 11 VISTA workers, working on projects like the South Reading Youth Initiative, AlverniaREADS, the Reading Collegiate Scholars program, and Food Access and Sustainability.
ALVERNIA is a thriving university that empowers students through real-world learning to discover their passion for life, while providing the education to turn what they love into lifetimes of career success and personal fulfillment, helping them make the world a better place. Situated on a scenic 121-acre suburban campus in historic Berks County, Pa., the university of more than 3,000 students is conveniently located near Philadelphia (60 miles) and within an easy drive of New York, Baltimore and Washington, D.C. As one of only 22 Franciscan institutions in the country, Alvernia's focus on caring for each other, the environment and the community are joined with a challenging educational experience to provide an unparalleled environment to grow, develop and mature as a person and professional.