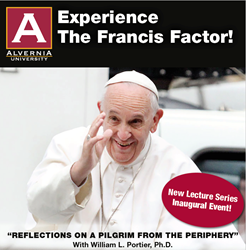 Reading, PA (PRWEB) April 20, 2016
Alvernia University will launch a new lecture series exploring Pope Francis on April 26, at 7 p.m., in the McGlinn Conference Center. For the inaugural "Francis Factor" event, Catholic theology expert William L. Portier, Ph.D., will discuss "The Francis Factor in the United States: Reflections on a Pilgrim from the Periphery."
The "Francis Factor" is a new lecture series at Alvernia University exploring Pope Francis and the ways he is influencing the embrace of the Gospel in the Church and wider world.
The inaugural speaker, Dr. William L. Portier, serves as the Mary Ann Spearin Chair of Catholic Theology and Doctor of Philosophy Program Director in the Department of Religious Studies at the University of Dayton. He is president of the College Theology Society, a member of the National Board of the Lilly Fellows Program Network, and he serves on the editorial boards of U.S. Catholic Historian and Communio, International Catholic Review.
His most recent book "Divided Friends, Portraits of the Roman Catholic Modernist Crisis in the United States," released in 2013, has been called "a must read for anyone interested in the history of the Roman Catholic Americanist and modernist controversies, and anyone interested in the history of Catholicism in the U.S."
Other works he has penned include "Isaac Hecker and the First Vatican Council" and "Tradition and Incarnation" — a widely used undergraduate theology text released in 1994.
"Through the Francis Factor series, we'll expand knowledge of our Catholic-Franciscan identity by exploring the broad impact Pope Francis is having both in the Church, and beyond the Church, though his intentional focus on the environment, immigration, service to the poor, hands-on living of the Gospel, social justice and the Year of Mercy," said Alvernia President Thomas F. Flynn, Ph.D.
ALVERNIA is a thriving university that empowers students through real-world learning to discover their passion for life, while providing the education to turn what they love into lifetimes of career success and personal fulfillment, helping them make the world a better place. Situated on a scenic 121-acre suburban campus in historic Berks County, Pa., the university of more than 3,000 students is conveniently located near Philadelphia (60 miles) and within an easy drive of New York, Baltimore and Washington, D.C.