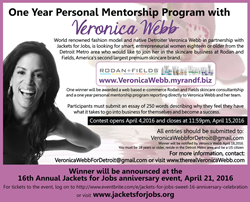 I love what I've been able to do with this opportunity, and it's my pleasure to offer this same opportunity to the winning candidate from my hometown. - Veronica Webb
Detroit (PRWEB) April 04, 2016
World-renowned fashion model and native Detroiter Veronica Webb is looking for a few good women. Webb is coming to Detroit to speak at Jackets for Jobs 16th Anniversary event, and she's using her platform to motivate and mentor a budding entrepreneur in search of the right opportunity.
Webb, a Rodan & Fields independent skincare consultant, has created an essay contest where participants must explain what it takes to be a successful entrepreneur and what owning their own business would mean to them, in 250 words or less. The winner of the essay contest will be awarded a web based e-commerce Rodan and Fields skincare consultantship and one year of personal mentorship from Webb and her team of skincare consultants. Rodan & Fields was created by Dr. Katie Rodan and Dr. Kathy Fields, the creators of Proactiv.
"I'm passionate about three things, my family, my health and of course beauty," said Webb. "I started my own business selling Rodan and Fields because the company creates some of the most high performance skincare I've encountered the world over. I love what I've been able to do with this opportunity, and it's my pleasure to offer this same opportunity to the winning candidate from my hometown."
Webb was inspired to create the contest after being asked to be the guest speaker at the 16th anniversary for Jackets for Jobs, Incorporated, an award-winning local non-profit organization that provides career training and business attire to individuals entering or re-entering the workforce.
"Veronica and I are both passionate about doing all we can to see the citizens of Detroit excel," said Alison Vaughn, CEO and Founder of Jackets for Jobs. "The opportunity for one hard-working entrepreneur to fulfill their goals with Veronica's help is exactly what Jackets for Jobs is all about. We're honored that our 16th anniversary event will serve as the platform for the winner to begin realizing her entrepreneurial dreams."
Essay contest participants must be women eighteen or older currently living in the Detroit metro area. Participants must be US citizens. Ten finalists will be chosen based on an essay of 250 words describing why they feel they have what it takes to go into business for themselves and become a success.
One winner will be announced at the 16th Annual Jackets for Jobs anniversary event, April 21, 2016 at Greektown Hotel and Casino in downtown Detroit. Finalists must be present to win. For tickets to the event, log on to http://www.eventbrite.com/e/jackets-for-jobs-sweet-16-anniversary-celebration.
All essays should be submitted to VeronicaWebbForDetroit(at)gmail(dot)com. The contest opens April 4, 2016, and all essays must be submitted by 11:59pm April 15, 2016 to be considered. Finalists will be announced April 18, 2016 via Veronica Webb's Twitter page @VeronicaWebb.
About Veronica Webb: Supermodel, actress, entrepreneur; in addition to her skin-care business, Webb serves as the beauty editor of luxury indie mag As If. For more information on Webb, go to TheRealVeronicaWebb.com.
About Jackets for Jobs: Detroit-based Jackets for Jobs, Inc. is a 501c3 award-winning nonprofit that provides career skills training and clothing to job seekers with two locations in Detroit, and one in Botswana, Africa. Jackets for Jobs, Inc is recognized by ABC's The View, NBC's Today Show and NASDAQ as a worthy organization to support.