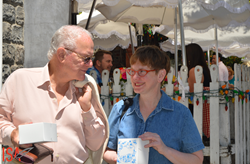 "...'Fast Track' was a big, big step forward. I'm getting fond attention from production companies and it's given me momentum."
Los Angeles, CA (PRWEB) February 25, 2016
In only two short seasons over the last year, the International Screenwriters' Association's "Fast Track" Fellowship has inspired real-world Hollywood connections. To announce the final application period of the 3rd season, former fellows stepped forward to share their success stories.
"The fellowship was a great chance to meet a ton of people I would never have had access too," said screenwriter and 2015 Fellow Chris DeWan.
DeWan's award winning TV pilot script, "Wunderland", was optioned by Indomitable Entertainment after an introduction was made through ISA's "Fast Track."
"Every [career] step forward– it's always going to be incremental," said DeWan. "But "Fast Track" was a big, big step forward. I'm getting fond attention from production companies and it's given me momentum."
DeWan found it "took the self-imposed heat" off his screenwriting career to receive the fellowship – a trip to Los Angeles for a week of meetings with eight high-level industry mentors.
Inaugural awardee, screenwriter Melissa Birks, was impressed with the mentors' thorough read of her screenplay and highly specific feedback. Birks signed with an agent, AJ Harris at Savage Agency, "completely due to the fellowship" and the ISA's Development Program - a one-year follow-up to "Fast Track" in which the organization acts as an unpaid manager, championing awardees' screenplays.
"[With other fellowships] you can look at the purse," said Birks. "But it takes a long time to get anywhere. What you want are contacts and connections."
ISA Founder Craig James created "Fast Track" to accelerate access to these industry connections – to "fast track" a writers' career by nurturing relationships.
"We can help take a writer from obscurity in Sheboygan, Wisconsin straight to meeting with the Hollywood players," said James.
The 2016 "Fast Track" Fellowship is accepting applications through March 3, 2016 at http://www.NetworkISA.org/FastTrack. Mentors have included Megan Spanjian (VP of Scripted Television, The Weinstein Company), Rowena Arguelles (Motion Picture Agent, Creative Artists Agency), Kyle Cooper (Creative Executive, Eclectic Pictures), and Tai Duncan (President of Production, Zero Gravity).
The ISA encourages writers of any age, level, and locale to submit their best work.
"The fellowship is great for people who've been working on their craft for a while – that think they're ready for the next thing, but don't know what the next thing is," said DeWan.
"Last year, I didn't have an agent," said Birks. "It takes you a long time to get anywhere…Fast Track isn't an ending, but a beginning."
About the ISA
Screenwriting takes perseverance.
The ISA believes in supporting screenwriters of any level and background. The organization provides writers with informational resources for career development and access to a growing, international community.
It can be an exhausting 'game' to keep abreast of every new contest, writing job, or corner of the screenwriting world. The ISA's comprehensive website acts as a unique, complete source – a portal for discovery – providing:

A comprehensive list of free resources. From scripts libraries to teleconferences to Q&A podcasts and tutorials, the ISA is driven to grant writers access to industry knowledge.
Current writing gigs. Its featured opportunities invite screenwriters to submit their work and connect with producers and professionals.
A carefully curated selection of class offerings and consultant packages, for writers desiring to hone their craft.
The latest success stories from community members. The ISA is proud to trumpet the triumphs of emerging screenwriters worldwide.
For further press information, please contact:
Molly Kasch, Director of Operations - E: Molly(at)NetworkISA(dot)org