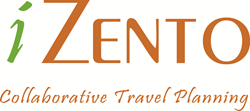 SAN FRANCISCO, CA (PRWEB) July 12, 2016
Travel technology company iZento is pleased to present its exclusive ClientBase QC Service that gives travel agencies the ability to understand, then control the quality of their Res Card data. The iZento ClientBase QC Service is the only solution on the market that empowers travel agencies to analyze errors or missing information within Res Cards to better manage their data and their agency – not only preventing problems or mishaps while the client is traveling but also delivering the best data for tailor-targeted future marketing.
"iZento's ClientBase QC Solution runs in silent mode with no agency or agent disruption all the while relaying where there is incorrect or missing information in an agency's Res Cards so they can get the best data possible and boost their business," said Judy Roberts, President of iZento.
Utilizing the QC Service, the travel agency administrator gets to see behind-the-scenes what kind of Res Card data the agency is truly attaining. Further, they have the ability to analyze errors and understand if there are common omissions of information. The QC System is the only solution available that finds "logic errors" in data input into the ClientBase Res Card such as out of order events like car pick-up and drop-offs. It finds the missing data points and reports it. Once the agency understands the shortcomings, it is easy to adjust those and get back control of their data as well as of their travel agency. In fact, many agency clients even utilize the quality control tools to train new agents on best practices for using ClientBase.
"Most travel agency owners think that their data from Res Cards is very good. Unfortunately that is generally not the case," said Dr. Robert Joselyn (Dr. Bob), President & CEO The Joselyn Consulting Group and TAMS (Travel Agency Management Solutions). "From what we have seen only about 20% of the potential data is complete, leaving a great deal of room for negative client experiences due to incorrect or incomplete data input within a booking. Beyond that, bad data equals missed future target marketing and client relationship opportunities. One of the features I like about iZento's product is that it shows agents what data is missing or incorrect. I see it as Quality Control insurance for the client, the agent and the agency."
If at a later time, an agency wishes to upgrade their iZento ClientBase QC Service to the company's signature iZento Journal Service, they additionally gain access to exclusive Res Card error correction tools that highlight any missing data, ensuring that the reservation is correct and the traveler experience is enhanced. Further, unlike other travel collaboration tools, the iZento ClientBase QC Service helps agencies improve client data directly within the Res Card so they can: keep all data within one central place, update the booking with add-on sales, and utilize this valuable client data for future marketing – yet another benefit that no other service offers.
"Agency owners are particularly enthusiastic that the QC Service functionality helps agencies take a snapshot of what their frontline travel agents are doing well and where they need to improve in ClientBase – all with no interruption to the daily business process -- allowing the management to surgically address and gain better control over their data! With this solution travel agents gain access to alerts that point them directly to where data may need adjusting within a Res Card. This process makes it quick and easy for them to correct the data, assuring they put their best foot forward, providing clients with the most accurate vacation information possible. They definitely like knowing we have their back 24/7/365!" said Tom Milgate, National Sales Director, iZento.
Upgrading to the iZento Journal Service includes a full suite of benefits including: automatic creation of a comprehensive travel itinerary from the data an agent includes on the ClientBase Res Card for a booking including: air, hotel, car rental, rail, cruises, tours, transfers, and insurance; agency branding; Recommended Tours section for upselling and increasing revenue; Easy to upload agency-generated ads within itineraries for added ROI; New custom journal cover options; mobile viewing capability of itineraries; automatic updating via a persistent link whenever the Res Card is updated; share capabilities via email and social media; and more!
"We started with iZento's QC Service to see what was missing or incorrect on our ResCards. Once we knew our data was accurate and complete, we upgraded to iZento's Journal Service that instantly produces itinerary journals from our great res card data without any extra work on the part of our agents," said Leigh Ann Arnholt CTA, MCC of Carson Travel. "Our clients love these comprehensive journals and it's given us a new channel to collaborate with them and to sell more ancillary services via the included ads feature. We are simply thrilled with this 2-step solution!"
For additional details travel agency owners and managers can call: 1-585-538-4442, visit http://www.izento.com, or contact the technology provider via email at info(at)izento.com with additional inquiries.
About iZento:
iZento provides patented technology solutions for travel providers, travel technology companies, travel agents and travelers. Established as the most comprehensive online travel planning and itinerary building service with tools, resources, and marketing opportunities designed specifically for travel professionals, iZento began delivering customized private label solutions in 2009.
The iZento Travel Provider Platform is available to travel industry providers who are looking to differentiate their offerings and create new revenue streams. Completely customizable, the platform can be implemented to transform a company's raw data to create interactive itineraries and serve as a novel marketing engine. The company's subscription service for traditional and home-based agents continues to grow and provide travel specialists with a cost effective and easy-to-use option for building complex itineraries with swift efficiency. iZento's development processes are effected by The Nerdery (http://nerdery.com).
For additional information on iZento technology for travel agents, travel suppliers, and travelers, visit the company's website at iZento.com or email sales(at)izento.com
###