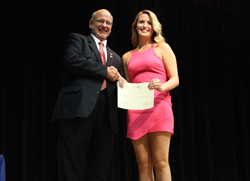 I want to thank Standard Process for this scholarship
PALMYRA, Wis. (PRWEB) November 03, 2016
Standard Process Inc., manufacturer of whole food nutrient solutions, supports future health care professionals in several ways. Through the Standard Process scholarship program, Kameron Bavender, a student from Texas Chiropractic College (TCC) was granted $2,500 to continue to pursue her chiropractic degree.
"I want to thank Standard Process for this scholarship," said Bavender. "I am excited for the support it will provide me while in chiropractic college."
Bavender, the 2016 recipient of the Standard Process Nutrition Award scholarship, is in her fourth trimester with a 4.0 GPA and expects to graduate fall of 2018.
"It is no surprise to us at TCC," said TCC's Arthur Goudeau, "that Ms. Kameron Bavender was awarded the Standard Process scholarship. She is such an incredible example of what makes chiropractic such a great profession".
Standard Process goes above and beyond to help students studying in the healthcare professions. This year Standard Process has provided health care professional students with over $90,000 in scholarship funds, with hope that the recipients will further their knowledge in nutritional education while pursuing their degrees.
In order for a TCC student to qualify for a Standard Process scholarship, they must meet the following standards:

Should have at least one semester/trimester/quarter remaining before graduation
Have a cumulative GPA of 2.9 or higher
Provide a list of their contributions to the chiropractic profession, to the college, and the community
Provide a letter of recommendation from a faculty member
Provide a written response to the given question
If you would like to learn more about Standard Process scholarship opportunities, contact Lisa Hackett, professional development coordinator, at 800-848-5061, or by email at lhackett@standardprocess.com.
###
About Standard Process Inc.
Standard Process is the visionary leader in whole food nutrient solutions. Based in Palmyra, Wisconsin, Standard Process offers more than 300 high-quality supplements made with whole food and other ingredients through three product lines:

Standard Process
Standard Process Veterinary Formulas
MediHerb herbal supplements
The products are available exclusively through health care professionals, including chiropractors, acupuncturists, medical doctors and veterinarians.
Dedicated to the whole food philosophy of founder Dr. Royal Lee, Standard Process' goal is to ensure its nutritional supplements deliver complex nutrients as nature intended. To accomplish this, Standard Process grows the majority of its raw plant ingredients on company-owned certified organic farmland. Using state-of-the-art manufacturing processes to retain vital nutrients within each ingredient, Standard Process manufactures its supplements in its certified organic manufacturing facility. Standard Process employs high quality control standards and follows the Food and Drug Administration's current good manufacturing practices.
Standard Process also owns two subsidiaries, Cultivate by Standard Process TM and Lee Engineering. Both offer unique wellness solutions. Cultivate delivers scalable wellness programs to businesses, using on-site chiropractic as a central component of the program, to impact individual employee and overall company health. Lee Engineering's Royal Lee OrganicsTM offers Intelligent Healthful Living™ solutions for home flour milling.
Standard Process employs over 370 people and has been in business since 1929. The company is recognized as a distinguished leader and innovator in workplace wellness and an exemplary environmental steward. It is a recipient of the Platinum Well Workplace Award from the Wellness Councils of America and a Tier 1 participant in the Wisconsin Department of Natural Resources Green Tier program, which recognizes companies with strong environmental-compliance records. For additional information about Standard Process, visit standardprocess.com.