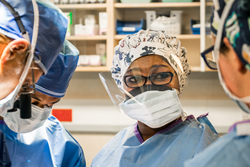 There was not one plastic surgeon to help her in Benin, and the family did not have enough money – so people pitched in to send her abroad. I was so touched by that story," she says. "That's when I chose my profession
Cotonou, Benin (PRWEB) March 08, 2017
On International Women's Day, Mercy Ships spotlights Dr. Fifonsi Odry Agbessi, the first and only plastic surgeon in the West African nation of Benin. "When I was 12, I saw a woman on TV … her husband had burned her with acid – her face had become fused to her neck, so she could never look a person in the eye." Dr. Agbassi mimics the condition, tucking her chin in close to her throat. "There was not one plastic surgeon to help her in Benin, and the family did not have enough money – so people pitched in to send her abroad. I was so touched by that story," she says. "That's when I chose my profession."
That was years ago, but it steered Agbessi's course. After graduating from secondary school, she began her medical studies in Benin. Eight years later, she finished her general degree in medicine and won a scholarship to study plastic surgery in Northern Africa. "But my father was afraid of how I'd be treated," she says, alluding to her race and gender. "He wouldn't let me go." Forced to turn down the opportunity, Agbessi practiced general medicine at home for another eight years. "Then I was offered the opportunity again," she says. By this time, her father had passed away, and she was finally able to pursue her goal. "It was in 2015 that I finally succeeded in becoming a plastic surgeon," she says. "Of course, there were many times it wasn't easy, times I wanted to give up," she recounts. "But I finally got here."
Dr. Agbassi recently completed her second stint onboard Mercy Ships where she participated in a Medical Capacity Building (MCB) mentoring program. In West Africa, it's rare that medical professionals have the opportunity to gain advanced training, practice on newer technology, and liaise with experts in their field. For that reason, many medical professionals leave to study abroad. Dr. Agbessi took advantage of the opportunity to work alongside Mercy Ships surgeons in 2009 and again on the ship's return to her country in 2016/17. "She spent as much time as she could with us," said Dr. Tertius Venter, a South African plastic surgeon. "I was certainly impressed with her knowledge."
Dr. Agbessi was passionate about increasing her skills and knowledge with as many of the courses and training offered by Mercy Ships MCB program as possible. "She sought me out and told me that she needed to attend our pain management class," recounted Abby Watrous, a Mercy Ships volunteer from Washington, D.C. and a member of the Mercy Ships MCB team. Afterwards, Dr. Agbessi thought it was such important knowledge to have that she taught the course to 20 nurses at her own hospital.
As Dr. Agbessi puts her newly minted skills to work back in her own operating theater, she's not blind to the challenges she'll face. "We see a lot of things here," she says … and that probably includes women as badly burned as the one who inspired her in the first place.
###
ABOUT MERCY SHIPS:
Mercy Ships uses hospital ships to deliver free, world-class healthcare services, capacity building and sustainable development to those with little access in the developing world. Founded in 1978 by Don and Deyon Stephens, Mercy Ships has worked in more than 70 countries providing services valued at more than $1.3 billion, treating more than 2.61 million direct beneficiaries. The Africa Mercy is crewed by 400 volunteers from up to 40 nations, an average of 1000 each year. Professionals including surgeons, dentists, nurses, healthcare trainers, teachers, cooks, seamen, engineers, and agriculturalists donate their time and skills to the effort. With offices in 16 nations, Mercy Ships seeks to transform individuals and serve nations one at a time. For more information click on http://www.mercyships.org
For More Information Contact:
For USA: Pauline Rick
US Public Relations Coordinator
Mercy Ships
Office Tel: (903) 939-7000
Mob: (972) 922-5442
Email: us.media(at)mercyships(dot)org
For Int'l: Diane Rickard
International Media Manager
Mercy Ships
Diane.rickard(at)mercyships(dot)org
Hi-res photos and general Mercy Ships B-Roll video footage are available upon request.