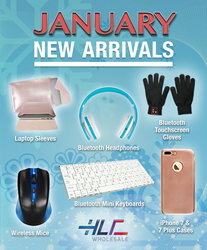 New York, NY (PRWEB) January 14, 2017
HLC Wholesales Inc., the leading provider of a wide range of wholesale digital products and mobile phone accessories has recently announced the arrival of its new product range for the month of January. The company will now be offering a wide variety of high-end products including Smart Watches, Microso SD Memory card readers, folding bluetooth wireless headphones, Bluetooth mouse, iPhone cases and more at highly affordable rates.
Sharing further details regarding their recent announcements and latest products, a spokesperson at HLC Wholesales Inc. stated, "As the premier provider of digital products and accessories, we believe in providing our customers with quality, reliable and long-lasting products. Our latest range of digital and mobile phone products are designed to meet their music, entertainment and every day needs. We have always been at the forefront of providing our customers with high-quality, trusted and newest range of electronic and mobile phone products and will continue to meet their requirements even in the future."
It must be noted that HLC Wholesale Inc. offers an assortment of products including phone accessories, notebooks, security camera systems, shoes, leggings etc. to its customers in New York. With more than ten years of manufacturing experience, the company emphasizes on offering premium quality and affordable digital products and surveillance systems.
In addition to smart watches, Bluetooth headphones, micro SD Memory card readers, HLC will also be offering its all new Portable Wireless Bluetooth Floating Levitating Maglev Speaker. The high-quality speaker is designed to offer incredible sound experience to smart phone and tablet users. The Maglev Speaker comes with unique features such as 3D Surround sound and LED Visual effect. Users can connect the speaker wirelessly to their smartphones, tablets and other Bluetooth enabled devices and enjoy their favorite music as per their convenience.
HLC Wholesale will also be providing water resistant leather exterior for laptops. The envelope style leather sleeve is designed to absorb shocks and bumps and safeguard laptops from scratches. The product is extremely stylish and lightweight and does not add any bulk to laptops and tablets.
HLC Wholesale also provides all types of mobile phone accessories and products for iPad 4, iPad Air, iPad 3, iPhone 5/5S, iPad2, iPhone 4, iPhone 5C, iPad Mini 2, iPhone 3, iPad Min as well as Samsung range of phones and tablets. Apart from this, the company also offers mobile phone cases, screen protectors, power banks, chargers and other products. For more information about the company visit http://www.hlcwholesale.com/wholesale-cell-phone-accessories/
About HLC Wholesale
HLC Wholesale is a highly reputed name in the digital, surveillance and electronic products and system manufacturing space. Situated in New York, New York the company specializes in the designing & manufacturing of tablet and mobile phone accessories. The company also provides a wide variety of security cameras and systems.
Contact Information-
Contact Number: 212-889-2899 or 212-889-2799
Email id: sales(at)hlcwholesale(dot)com
Website: [http://www.hlcwholesale.com/
Address: 25 West 26th Street New York, NY 10010