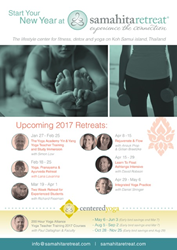 Koh Samui, Thailand (PRWEB) January 09, 2017
Samahita Retreat is proud to bring back Simon Low for two January sessions. The first is a weeklong retreat to welcome in the New Year, lasting from January 7 through January 14. The second is a month-long accredited 200-hour teacher training program.
About Simon Low
Head of The Yoga Academy and co-founder of Triyoga, Simon Low has been teaching yoga for more than 20 years. His retreats and workshops are carefully crafted to be accessible for beginners, yet meaty enough for those who are further along in their practice. The focus is on the development of "attention," which informs every aspect of yoga practice as students learn to find balance harmony both on the yoga mat and in everyday life.
About the January Retreat
The weeklong retreat is designed to welcome the fresh energy of the new year. Based on his Yin and Yang program of yoga study, Simon Low and his assistants will guide participants through a program of renewal and refreshment, along with purposeful intention setting for the year ahead. Mornings are dedicated to the Yang, providing a powerful and energetic start to the day. Evenings focus on the Yin, offering restoration and deep relaxation before bed.
The week will also feature group chants and meditation periods, along with classes in topics ranging from anatomy to philosophy to psychology. Enough free time is provided for participants to enjoy the beach, to visit the temple and other nearby attractions, or to schedule services at the Wellness Center.
About the Yoga Teacher Training Program
Those who are looking for a fully accredited 200-hour yoga teacher training program are welcome to apply for Simon Low's program at Samahita Retreat. From January 27 through February 25, he will teach his full Yin and Yang curriculum.
The days are long, and are filled with intensive study and discussion of all forms of yogic expression. Those who wish to participate should prepare themselves to work hard and to dig deeply into themselves and their yoga practice. However, the days are well-paced with breaks for private study, meditation, or simple relaxation, and regular full days off are built into the program. Participants who are ready to dive deeply into the program are rewarded with not only a Yoga Alliance 200-hour certification, but also a wealth of knowledge on which they can draw for a lifetime.
About Samahita Retreat
Established in 2003, Samahita Retreat is an intimate yoga retreat resort hidden away from Thailand's busy tourist areas. Owned and directed by senior yogi Paul Dallaghan, the retreat is a friendly and inclusive spot for training, detox, wellness programs, or simple relaxation. Samahita is also home to the innovative YogaCoreCycle program Integrating functional fitness, classical yoga, strength and cardio. All prospective students are encouraged to sign up for Samahita Retreat's newsletter for more information. Samahita Retreat is located at 55/20-24 Namuang, Na Muang, Koh Samui, Surat Thani 84140, Thailand. To learn more, call +66 77 920 090 or visit the website at http://www.samahitaretreat.com or email info(at)samahitaretreat(dot)com