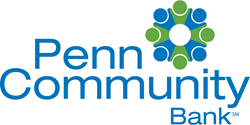 DOYLESTOWN, Pa. (PRWEB) January 03, 2017
Penn Community Bank's first annual "Feed-A-Neighbor Food Drive" was a great success, raising substantial donations to provide to Bucks County food pantries. More than 1,000 non-perishable food items were collected during the food drive, which solicited donations at each of the bank's 22 branches in Lower, Central and Upper Bucks.
While Bucks County may be thought of as an affluent area, one in 10 county residents and 16 percent of all children in Bucks County are considered food insecure. That makes supporting the area's food pantries even more important.
"Many Bucks County families aren't sure where their next meal is coming from," explained Todd Hurley, Chief Relationship Officer of Penn Community Bank. "It was important to us to help these families, especially during the holiday season."
Food was distributed to The Lord's Pantry in Ottsville, the YWCA in Warminster, Bristol Borough Community Action Group in Bristol and Redeemer Lutheran Church in Penndel. Donating to food pantries in each part of the county demonstrates Penn Community Bank's continued commitment to giving back to organizations throughout the entire Bucks County area.
The Lord's Pantry is a food collection organized through St. John the Baptist Parish. Learn more on its website.
Part of the greater Bucks County network, the YWCA in Warminster serves women, girls and families in Bucks County by providing educational programming, meals, and more. Learn more on its website.
The Bristol Borough Community Action group is a nonprofit organization that has served daily meals in the Bristol area in Lower Bucks County for 40 years. Learn more on its website.
Redeemer Lutheran Church offers a food pantry to the local community and church members and provides a free meal to those in need once a month. Learn more on its website.
About Penn Community Bank – Penn Community Bank holds more than $1.8 billion in assets and employs more than 300 people at 22 bank branches and two administrative centers throughout Bucks County, Pennsylvania. As an independent, mutual financial institution, Penn Community Bank is not publicly traded and operates with its long-term mission in mind: to help businesses grow and prosper, to support individuals and families throughout their lifetimes, to strengthen the local economy, and to partner with local organizations to act as a catalyst for positive growth in every market it serves.
# # #