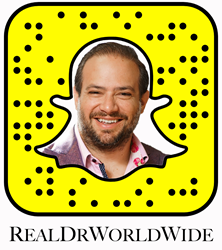 "It's More Than Just Plastic"
El Paso, Texas (PRWEB) January 26, 2017
El Paso Plastic Surgeon, Dr. Frank Agullo is among the nation's leading plastic surgeons who have taken to social media platforms like Snapchat to share their services on an entirely, up-close and personal level with the rest of the world. Under the Snapchat handle, "RealDrWorldWide," he shares real Southwest Plastic Surgery patient cases, live surgeries, and even responds to questions from his followers.
Big reveals (like having patients take off their splints following a nose job) give Snapchat followers an instant view of before and after results, as well as a condensed version of everything that happens in between.
When Snapchat users add @RealDrWorldWide on their apps, they can get a real life look into mommy makeovers, liposuction procedures, Brazilian butt lifts and tummy tucks. Dr. Agullo makes even the breast augmentations look like a breeze.
There isn't a single type of plastic surgery that Dr. Agullo performs at Southwest Plastic Surgery that he isn't excited to share on Snapchat. But don't worry, all of the cases he features have stepped forward to share their amazing transformations. All are just as excited about the process as @RealDrWorldWide's social media followers.
Followers find the quick videos entertaining, informative, and even educational. Prospective patients that are thinking about having cosmetic surgery done can see just how carefully and accurately Dr. Agullo performs the service in his El Paso office. RealDrWorldWide answers questions directly sent through Snapchat from his followers. You can find any transformation possible, and if you don't see what you're looking for, just snap him a message directly and watch for a reply.
Plus, the forum provides an easy way to get to know the Agullo Plastic Surgery staff — including everyone from his anesthetists and registered nurses to his assistants and receptionists.
Earlier this year, Dr. Agullo visited another popular Snapchat celebrity, Dr. Michael Salzhauer (aka "Dr. Miami") in Florida. During the visit, the doctors networked together along with Dr. Agullo's social media sidekick, Barbie and Ken who like to tag along on business and personal trips.
At the end of October, Dr. Agullo attended the 23rd ISAPS (International Society of Aesthetic Plastic Surgery) Congress in Kyoto, Japan. Even there, he was busy sharing quick Snapchats about his trip, and giving his social media followers an inside peek at Japanese culture.
It turns out that "RealDrWorldWide" is also becoming quite the celebrity on popular TV talk shows like Medias de Seda and Calcetines Rotos, where he has been serving as a plastic surgery expert for their network of viewers. Believe it or not, he was even invited to attend the red carpet at the Latin Grammys in November.
Be sure to log into Snapchat daily and watch for a @RealDrWorldWide shout-out from Dr. Agullo and his team. Look out for his coined phrases "Ready for Hollywood", "Magic Wands" , "Lipo Lipo Everywhere", and "Stay Beautiful". Watch the Southwest Plastic Surgery News every Wednesday for the "lighter side" of plastic surgery. Most of all, be amazed at the before and after transformations and extreme makeovers.
You can also follow him on Twitter @agullo, Instagram @RealDrWorldWide, and Facebook @AgulloPlasticSurgery. As his handle name suggests, Dr. Agullo often travels worldwide, attending seminars, networking with other plastic surgeon specialists, and engaging in personal travels. Keep up with his travels, and you might even meet him in real life. Or, visit him personally at his practice, Southwest Plastic Surgery in El Paso, Tx.