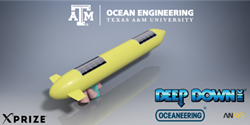 "As an Industry advisor to the Texas A&M Shell OceanDiscovery XPRIZE team, I couldn't be prouder of the student based team who are using the absolute most from their current educational curriculum." Ron Smith, President, CEO Deep Down Inc. TX
Bryan, College Station, Texas (PRWEB) January 05, 2017
Texas A&M Ocean Engineering students have put together a multi-national team and entered for a chance of winning the "Shell Ocean Discovery XPRIZE," a global competition, that comes with a prize purse of $7 million dollars, of which $4 million will be awarded to the team that garners first place.
"What is the Challenge?" You may ask. It is not an easy challenge and a challenge that some believe is impossible to complete. It is to build an Autonomous Underwater Vehicle that will be capable of exploring and mapping the ocean floor. Our planet's surface is covered with approximately 70 percent of ocean and as of today, only about 5-7 percent is mapped in any significant way, in fact we know more about the Moon and Mars than we do about our own Ocean floor.
Texas A&M have made their submission for the first round of judging and met with XPRIZE judges to discuss their design last month in San Diego, CA. A&M Team Leader Dylan Blakeslee, went to San Diego with the Industry Advisor, Ron Smith, CEO of Deep Down Inc., (Houston TX) to discuss his team's submission, an Autonomous Underwater Vehicle they have designed and named Marlin.
Blakeslee is highly enthusiastic about the vehicles designs, capabilities and believes that his team is up to the challenge. He stated "We have devised an approaching method from shore to the Competition Area without human intervention. The hull has been designed with a material that can withstand hydrostatic pressure and a structure that minimizes resistance during navigation. We have put together a navigation and position system that allows us to accurately navigate the planned route while measuring its position even under water. Our team has designed a propulsion system that can achieve the fastest speed within a range that does not interfere with measuring data. The Marlin will be equipped with cost effective sonar, sensors and communication systems to transfer this information to the user. The energy source for all these functions is a rechargeable battery. Although it is not directly related to the Criteria required by the XPRIZE, to apply innovative and green technology, we designed a system to charge the battery via renewable energy generation and finally, we also designed a safety device that can recover safely when an unexpected situation occurs."
Ron Smith, President, CEO of Deep Down, Inc., an oilfield services company serving the worldwide offshore exploration and production industry, and Texas A&M Ocean Engineer stated, "As an Industry advisor to the Texas A&M Shell OceanDiscovery XPRIZE team, I couldn't be prouder of the student based team who are using the absolute most from their current educational curriculum and blending it with industry experience, and scientific advancements, for the going forward innovations necessary to win a contest such as this and change the world. I will continue to support them to the best of my ability and look forward to celebrating a winning system."
For the Texas A&M team from the submission stage to meeting with the judges, has been a huge learning curve. In the early stages, they were told that the task at hand was impossible, however, now, industry leaders and pioneers are feeling extremely optimistic that what they thought was impossible has potential to be an actual reality. The A&M team in addition to students from College Station and Galveston, have utilized the help from students attending two different universities in Brazil, although the A&M team has a diverse group of individuals emanating from all over the world.
Electrical Systems Lead Pankaj Goel said, "I am really excited about being a part of the XPRIZE team, this is a unique challenge where you have to work with multidisciplinary teams. For this challenge, you have to think out of the box while implementing engineering concepts learned during the coursework. Our biggest challenge will be to integrate all the components and subsystems and run the complete system successfully, which I have every faith our team is more than up to the task."
When Blakeslee was asked why there had been a change in outlook by people in the industry he said "Our Team has worked hard and done an extensive amount of due diligence. There are many cutting edge technologies that have already been developed throughout the world, all standalone, we intend to use these technologies with the consent of the owners, bring them all together and use them in unison, with our proprietary technology, designed by our A&M students. Our advising partners, Deep Down Inc., Oceaneering Intl., and Texas A&M University Ocean Engineering Department have been invaluable in the assistance and services they have given us so far.
Additionally to the XPRIZE $7 million dollar purse, The National Oceanographic Atmospheric Administration's (NOAA) have added a $1 million bonus prize intended to incentivize teams to develop technologies to detect the source of chemical and biological signals underwater.
Team Members, Faculty & Advisors
Hansung Kim, Jaewon Kim, Jin-young Kim, Gabe Tatman, Pankaj Goel, Prahant Gundale, Sambong Jang, Pranjay Gupta, Nabil Moosajee, Jacob Kennedy, Aishwarya Mahadevan, Susmitha Kotu, Nirup Kumar, Brian Hubbard, Zachary Ratliff, Chinenye Nwagbara, Levi Roady, Chung-Kuk Jin, Garrett Malatek, Jessica Heath, Mitchell Disbrow, Vinit Shah, Nathaniel Franklin, Marlon Batistella, Luis Cardoso, Micah Hutcherson, Hunter Adams, Sudikshya Bhandari, Charlie Donaway, Dylan Blakeslee, Dr. Robert E. Randall, Dr. Sharath Girimaji, Ronald Smith,
http://www.oceandiscovery.xprize.org
http://www.tamu.edu
http://www.noaa.gov
http://www.deepdowninc.com
http://www.oceaneering.com
http://www.ansys.com