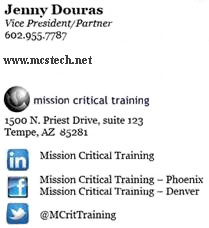 Live, In-Person Phoenix Training
Tempe, Arizona (PRWEB) January 12, 2017
Mission Critical Training, Colorado's top instructor-led desktop application and professional development training company, has expanded to Arizona with the acquisition of Executive Training Solutions in October 2016. This will bring expanded training services to the Arizona market to offer live, in-person, high quality training, in state of the art facilities.
"We have found that we are getting more and more students that are coming to us from other states for our classes. So we are expanding out from Colorado to better meet our clients' needs and market demands," said Jenny Douras, partner at Mission Critical Training.
Mission Critical Training has been offering computer training classes (specializing in Microsoft Office and Adobe applications) since 2007. Popular class topics include Excel, Time Management with Outlook, Access, and SharePoint. MCT also offers professional development classes in areas such as management, project management, public speaking, and communications. Professional Development Training
Features that attract students to their classes include:

Live, in-person, quality training delivery
Small class format of no more than 18 students, in order to provide more personalized instructor attention
Custom written training manuals provided to each student, with robust pictures and exercises, as well as Quick Tip sheets for quick reference after the class.
Corporate Course formats that condense most classes into short durations of four hours. This better fits into a morning or afternoon, to minimize the impact on a work day, so students can get back to the office, and apply the skills they learned that same day. MCT covers the same amount of content as a full day class, but without all the delays, so students can get in and out, and not waste their time.
Robust monthly newsletter and handy software tips
Free class retakes up to 6 months after a class
Free workshops that provide students help with their own work after they have taken an applicable class. It's adult study hall where students can have instructor assistance on Excel, Word, PowerPoint, or Outlook projects.
High quality instructors, each with years of experience in the industry
Free online personalized user accounts on the MCT website for each student to track classes, print certificates, and gauge progress through skill assessments
Student training class evaluations are peppered with such comments as, "The small class and 'one-on-one' attention is perfect for retaining the material. There is no fear of asking questions!" "The time in the class was perfect – covered just enough to be useful and not overwhelming," and "Quick to the point – fast paced, easy to understand and enthusiastic. Never boring or down time," and "Nice Facility! This was the first time I was not in a hotel banquet room for IT training, and I really prefer your location!"
"Our philosophy is to offer a boutique training experience with classes that are entertaining, but provide a high level of retention. We believe the best training is done with a highly experienced instructor who is actually there with you, and can help you with your individual needs," noted Ms. Douras. We don't want our students to feel like a number. Each and every relationship is important to us. We want students to have continued support after our classes, with our various free resources, such as the Just Tips newsletter, retakes, and workshops."
Mission Critical Training also offers other services such as: Instructional Design, Consulting, and Private Group Training, in which MCT takes classes to company locations.
As part of the expansion, Mission Critical Training has also extended their partnership with Mountain States Employers Council into the Phoenix market. This allows MSEC to offer computer courses to their members in both Denver and Phoenix. MSEC is a non-profit membership organization that partners with large and small, public and private employers alike to maintain effective employer-employee relationships.
The new Arizona Mission Critical Training Center is located at 1500 N. Priest Dr., Suite 123, Tempe, AZ 85281. There are 2 Denver area locations to serve clients, as well, in Westminster and the Denver Tech Center. For more information or registration, call 303-383-1627 or go to mcstech.com