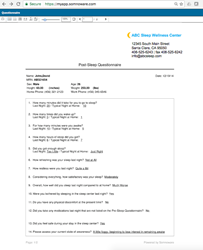 Santa Clara, CA (PRWEB) January 05, 2017
Somnoware, a leading provider of digital health technology, now provides online screening, pre-study, and post-study patient questionnaires. Each time a sleep study appointment is scheduled using the Somnoware platform, a questionnaire is automatically assigned and a notification is sent to the patient to let them know about it. When online, the patient can easily click on the link to view and complete their questionnaire using any browser-based device. The option to use an iPad-based kiosk inside of an office is available for patients arriving at their appointment without completing their questionnaires in advance. For both scenarios, the questionnaire results automatically become part of each patient's record and are available for staff to review.
Patients typically spend an hour of their time completing the paper-based screening and pre-study questionnaires during their first sleep center visit. By using an online format, clinicians can quickly determine if patients are at a low or high risk of having sleep apnea prior to speaking with them. If they are at a low risk, then clinicians can conduct a home sleep study test instead of an in-center one, saving them considerable time and resources. Patients can also receive insurance preauthorization faster by having the pre-study questionnaire done in advance and online.
"On average, administrative staff working at a 6-8 bed sleep center spend up to 30-40 hours per month scanning paper questionnaires and attaching them as PDFs to each patient's record. With this manual process, there is a high potential for error—files can easily be mixed up, especially when a questionnaire is 10-20 pages long," says Subath Kamalasan, ceo of Somnoware. "By using online automated questionnaires, clinicians are able to screen and steer patients in advance, saving them time and optimizing the diagnostic care protocol."
To improve their workflow, clinicians can also create their questionnaires or select from a variety of formats based on the selected study type. They can use questions that are based on their preferences, such as creating one for a patient with a history of depression or insomnia, or for one that currently uses a specific type of therapy, like CPAP or an oral appliance. Each questionnaire also differs in the number and format of listed questions, such as using true-false, multiple choice, and short answer.
 
As the industry's leading sleep health management platform, Somnoware is currently used by one in five sleep physicians in the United States. It is available in two versions—Somnoware for Physicians and Somnoware for Sleep Centers. Physicians get instant access to sleep test data, e-signature capability, one-click DME ordering, CPAP compliance data, and the ability to conduct end-to-end patient care management. Sleep centers can automate their complete workflow including scheduling at multiple centers, inventory management, automated reporting, therapy ordering, and AASM accreditation.
To learn more about Somnoware, please contact Raj Misra at media(at)Somnoware(dot)com.
 
About Somnoware
Somnoware is transforming sleep health management by accelerating diagnostics and increasing therapy adherence. It automates sleep testing processes, provides actionable data and predictive insights to physicians, and drives patient engagement. The company's customer base includes leading health systems, independent sleep centers, and sleep services companies. Somnoware is headquartered in Santa Clara, California. For more information, please visit http://www.somnoware.com or follow us on twitter @somnoware.