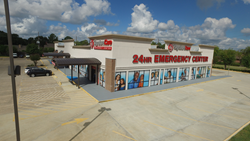 Houston, TX (PRWEB) January 31, 2017
SignatureCare Emergency Center – Mission Bend celebrates it's third birthday this month. The Mission Bend- Sugar Land location that stands at 8910 HWY 6 S. Houston, TX, was the very first SignatureCare emergency room location. The company has now expanded to five locations, four in Houston, one that just opened in College Station and a sixth set to open in Stafford later on this year. "SignatureCare is excited to celebrate the third birthday of our first location," said Aaron Braun, SignatureCare Emergency Center's Chief Medical Officer. "This facility represents the start of our company, and the growth we have had over the last three years."
The state-of-the-art facility includes on-site imaging services such as x-ray, CT scans and ultrasounds. The center also includes an on-site laboratory where medical tests can be processed right way. All the staff at SignatureCare Emergency Center are board-certified and can treat both adult and pediatric emergencies.
The emergency room can treat everything from serious infection and broken bones to chest pain and asthma. Most patients wait no more than ten minutes to be seen and treated.
"We have loved servicing our Mission Bend community the last three years," said Braun. "We have developed great relationships with our patients and we are looking forward to many years to come."
For more information on SignatureCare Emergency Center – Mission Bend visit http://ercare24.com/mission-bend-sugar-land/
About SignatureCare Emergency Center
Licensed by the Texas Department of Health Services, SignatureCare Emergency Centers are freestanding emergency rooms that are always open. SignatureCare has four locations in the Houston area with each offering state-of-the art medical imaging, and X-rays. All of our emergency rooms are fully staffed with medical professionals, including board-certified physicians, licensed nurses, radiology technicians, and emergency-trained ancillary staff. All SignatureCare Emergency Centers are open 24/7- 365 days a year.
For more information on SignatureCare Emergency Center and its other locations visit http://www.ercare24.com.