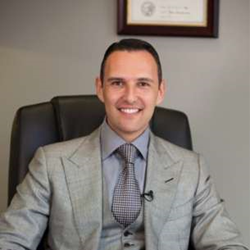 (PRWEB) January 05, 2017
Dr. Arthur Glosman Joins the Exclusive Haute Beauty Network
Dr. Arthur Glosman, cosmetic dentist from Beverly Hills, has joined the prestigious Haute Beauty Network. The Haute Beauty Network, affiliated with luxury lifestyle publication Haute Living, is proud to recognize Dr. Arthur Glosman as a prominent cosmetic surgeon and the network's newest partner.
Beverly Hill's renowned cosmetic dentist, Dr. Arthur Glosman, has partnered with Haute Living as one of Haute Beauty's featured cosmetic doctors and a leading influencer in the industry. As a Haute Living Beauty Ambassador, Dr. Glosman will share his skill and expertise with the Haute Beauty and Haute Living subscribers, educating readers on his industry and providing exciting news, tips and insight.
Dr. Glosman's Dentofacial approach to dentistry marries the form and function of the face to the shape, size, and color of the teeth. He can combine any of our myriad services such as porcelain veneers, dental implants, and dental inlays-onlays into one package to fit the needs of any patient.
Additionally, he provides standard services such as crowns, bridges, and general dentistry, yet all services are performed with the precision and refinement that is far above typical standards. The results are dazzling, which is why his clients come from as far away as Switzerland, France, Germany, and Moscow to achieve them. Dr. Glosman is also recognized by some of the nation's top broadcast networks, publications and celebrities as the go-to dentist for dental beauty care. Dr. Glosman's approach has always been about beautifying smiles, but his approach has become more holistic. As an experienced cosmetic dentist, Dr. Glosman examines both the health and look of your teeth, with how your smile fits with your facial features. Dr. Glosman's office feels the importance of keeping the environment clean. Working diligently to generate the lowest possible carbon footprint, Dr. Glosman knows how important it is to respect our planet and reduce the use of precious resources. His practice is completely electronic–meaning paperless and chartless. All of his materials are metal-free and biocompatible. Please feel free to peruse their website at arthurglosmandds.com for examples of his work or view his testimonials and see notes from his clients.