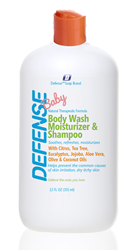 Defense Baby Soap allows parents to cleanse babies' skin with natural ingredients. We are certain that eliminating anesthetics and other chemicals will generating healthy beautiful skin — much the delight of parents and national retailers.
(PRWEB) January 12, 2017
Defense Baby Soap & Shampoo is an organic skin care formula specifically designed to meet the needs of all infant skin types and conditions. The result is clean, refreshed and lustrous skin for baby.
The liquid soap contains no synthetic chemicals or dyes. The soap is made with all organic ingredients sourced from the most reputable and highest quality plantations from all over the world.
These ingredients consist of natural essential oils proven to have soothing and therapeutic properties. It is the ideal soap for babies because it will not strip the skin of moisture, or damage its sensitive ecology. Our unique formula also helps prevent the common causes of skin irritation.
Defense Baby Soap:

Is free of sulfates, parabens and phthalates
Soothes, refreshes and moisturizes the skin
Lathers and rinses clean
Maintains healthy skin flora
Keeps babies' skin soft and supple
Our natural, soothing formula uses all organic ingredients including:
Saponified Organic Oils of Coconut, Olive, and Jojoba, Vegetable Glycerin, Organic Guar Gum, Natural Essential Citrus Oil Blend, Natural Vanilla Fragrance, Tea Tree Oil, Eucalyptus Oil, Rosemary Extract and Organic Aloe Vera.
For retail distribution and wholesale pricing please contact:
Guy Sako
T. 216-255-8748
E. guy(at)defensesoap.com
About Guy Sako
Guy Sako spent his life in law enforcement where he took on a personal mission to help Cleveland's youth by developing extensive wrestling training programs for them. His strong views on the principles of proper athletic training combined with hygiene led him to develop a natural soap bar to help his wrestlers mitigate the skin infections common to the sport. He gave away the soap to his students and soon parents were asking for it. As a result, he began manufacturing and marketing his soap under the "Defense Soap" brand.
Defense™Soap marks its 11th anniversary this year and is the USA's # 1 selling natural soap brand specifically designed for wrestlers. Our fan base is remarkable in its scope and includes thousands of wrestlers and Amateur Wrestling, MMA, and Jiu-Jitsu world champions across the globe.