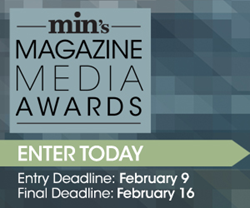 New York, NY (PRWEB) January 09, 2017
min is proud to announce the call for entries in the 2017 min Magazine Media Awards. This prestigious awards program honors magazine media brand excellence in all of its facets—content, marketing, design and digital—with special emphasis on sustained performance during the past 12 months. The early entry deadline is Thursday, February 9. Winners and honorable mentions will be celebrated at a special awards event on June 20, 2017 at the Yale Club in New York City.
The program has previously honored top media businesses including Bauer Media Group, Hearst, Meredith Corporation, Popsugar, Time Out, AARP and other exceptional brands. The awards program is open to all publishers of content—consumer publishers, b2b publishers, association publications, custom publishers and digital-only publishers. International entries are welcomed. Agencies and industry vendors may enter on behalf of their publishing partners.
"In a media landscape that's constantly evolving, it's been an honor to recognize the collaborative and innovative work of the min Community," said Roberta Caploe, Publisher of min. "I look forward to continuing that tradition given the tireless effort and creative pivots we saw from many publications in 2016."
All categories in min's magazine Media Awards honor all-encompassing collaborative work published between February 16, 2016 and February 16, 2017. Categories include:

Advertiser Program/Partnership
Art Direction—Overall
Column/Blog
Consumer Marketing Campaign
Content Marketing Program
Contests/Sweepstakes
Cover Design Portfolio
Cover Illustration Portfolio
Custom Publishing Project
Digital Edition
Digital Excellence—Overall
E-letter Design
Editorial Excellence—Overall
Editorial Series
Event
Infographics
Lead Gen
Magazine Design—Overall
Magazine Design—Single Issue
Magazine Launch
Magazine Media Brand
Magazine Redesign
Magazine Relaunch
Magazine—Single Issue
Marketing Excellence—Overall
Media Kit/MarCom Materials
Microsite/Custom Website
Most Engaged Online Community
Native Advertising Content
Online Store/Ecommerce
Photo Galleries
Podcast—Series
Social Media Excellence—Overall
Use of Facebook
Use of Instagram
Use of Photography
Use of Pinterest
Use of Snapchat
Use of Twitter
Use of Typography
Video Series
Video: Overall Use of video
Website
For more information on entering min's Magazine Media Awards, visit http://www.minonline.com/magazine-media-awards-2017/.
For questions about the program, contact Zoe Silverman at zsilverman(at)accessintel(dot)com. For questions about sponsorship, contact Tania Babiuk at tbabiuk(at)accessintel(dot)com.
About min:
min is the industry's trusted source on the consumer and b2b magazine business, reaching thousands of media executives through print, online and in-person events. For more than 60 years, min has been serving the magazine and media community with unparalleled coverage of this ever-changing industry. For more information, visit http://www.minonline.com.