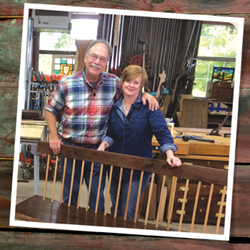 Makers are dreamers. They imagine possibilities and experiment.
PARKERSBURG, W. VA. (PRWEB) January 09, 2017
Co-hosts Scott and Suzy Phillips will show "The American Woodshop" viewers easy, affordable ways to make furniture and decorative art for their homes in the 13 Season 24 shows that will begin airing on Saturday, January 14. Check your local PBS station for airtimes.
"The American Woodshop" is produced by WGBU TV, Bowling Green, Ohio, and sponsored by Woodcraft Supply, Rikon Power Tools, PS Wood Machines, FurnitureBank of Central Ohio and "Woodcraft Magazine."
"Woodcraft is pleased to be a sponsor for 'The American Woodshop,'" Jody Garrett, Woodcraft president, said. "Scott and Suzy Phillips continue to offer fresh, new projects that help woodworkers build their skills, while making furniture and decorations they will be proud to show off in their homes."
Scott has been "working with wood in every imaginable way" for 50 years, beginning in his father's shop in 1966. Along the way, Suzy joined him in the woodshop and now offers carving and scrolling techniques that are easy to understand and duplicate.
"Makers are dreamers," Scott and Suzy said. "They imagine possibilities and experiment." In Season 24, Suzy and Scott combine the best open-minded blend of old and new mediums, including the union of wood, glass and metal in an artful way to decorate interiors and garden spaces.
The co-hosts have chosen reclaimed, recycled and upcycled materials for their projects, which they will create using affordable tools and safe techniques. "Working creatively with found materials is extremely rewarding. It starts when you pick up old wood and give it new life," Suzy said, and Scott added, "Sometimes recycled and reworked to look new is the best path. Other times keeping the patina of aged wood tells a better story. But the choice is in the hands of the maker."
Season 24 projects include the following:
•Shaker-Inspired Spindle Bench Turning for Beginners – Very Affordable! (#2401)
•Homemade Window Casings and Baseboard Trim for Everyone (#2402)
•Corinthian Door Pilasters with Beautiful Carved Capitals (#2403)
•Garden Fan Trellis and Garden Gates (#2404)
•Shop Tool Tray Bench for the Organized Workspace (#2405)
•Intarsia Flying Eagle Scrollsaw Folk Art with Scorched Wood Accents (#2406)
•Shaker-Inspired Wall Rack (#2407)
•Woodburning Old Wood for Framed Art Displays (#2408)
•Making Electric Guitars with Hard Maple Bodies (#2409)
•The Wall Desk and Room Organizer (#2410)
•Natural Edge Slab Tables with Recycled Metal Legs/Butcher Block Tops (#2411)
•Ottoman Storage Stool with Reversible Top (#2412)
•Tripod Occasional Table for Living Rooms (#2413)
For more information about "The American Woodshop," visit http://www.wbgu.org/americanwoodshop/index.html and http://www.facebook.com/The-American-Woodshop-1461759564084237/timeline/.
To learn more about Woodcraft, please contact the store nearest you, visit http://www.woodcraft.com or call (800) 535-4482. To learn about Woodcraft franchise opportunities, visit http://www.woodcraftfranchise.com or email woodcraftfranchise(at)woodcraft(dot)com.