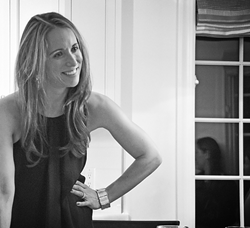 We don't just provide recipes. It's all about the experience that makes it unforgettable!
Long Island, New York (PRWEB) January 11, 2017
Nibbles by Nic Announces Exciting Plans for 2017 to Help Build Confidence in the Kitchen
Thirty something mom Nicole Meyer's passion for not only creating great meals, but also sharing how to create them can't be denied. 2017 seems poised to be her company Nibbles by Nic's most adventurous yet, with Nic announcing not just a series of not-to-be-missed workshops, but also a YouTube series sure to become a quick favorite with fans of simple ingredient cooking.
Building confidence in the kitchen. It's an admirable goal, considering most culinary experts agree with confidence most cooks are able to perform far beyond what they thought possible. Mom and cooking enthusiast Nicole Meyer of Nibbles By Nic certainly agrees, recently announcing her plans for 2017 that are all about helping teach, inspire and build confidence in her growing number of followers until the kitchen is recognized as a quite magical place where creating delicious meals doesn't have to be difficult at all.
There's no doubt this is going to be our best year yet. Nibbles By Nic is going to open many doors and we're going to see people creating wonderful dining experiences that make jaws drop. If you need confidence in the kitchen you've come to the right place.
According to Nibbles By Nic some highlights planned for 2017 include a series of action-packed cooking workshops, where Nic will deliver her knowledge first hand in a fun and entertaining way for cooks of all ages, providing everything needed to make the workshop happen. Clients can choose from a selection of workshops already available or plan out something unique and special that's all their own.
In addition to her hands on teaching, Nibbles By Nic is exploding on YouTube in a very big way in 2017. People can't seem to get enough of Nic's cooking style and personality and their call is being answered with her commitment to a whole new YouTube series, sure to both inform and excite, in her own unique Nibbles By Nic warm and friendly style.
Feedback for Nic's work continues to be passionate across the board, and 2017 promises to take it to the next level.
Michelle E., from Boston, recently said, "I love Nic's YouTube videos. I never really had any confidence in the kitchen, but she's shown me things don't have to be hard or complicated and now my husband compliments my meals all the time. Five stars all the way."
For more information be sure to visit: http://www.nibblesbynic.com