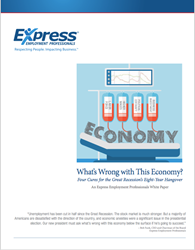 Our new president must address what's wrong with this economy below the surface if he's going to succeed.
Oklahoma City, OK (PRWEB) January 11, 2017
Express Employment Professionals released today a new white paper explaining why the country is still feeling a hangover from the Great Recession.
Despite a low unemployment rate and high stock prices, Americans are dissatisfied with the direction of the country, and economic anxiety was a driving factor in the 2016 presidential election. Titled, "What's Wrong with This Economy," the paper seeks to explain this surprising trend—and offer advice—for the incoming president if he wants to address this angst.
The paper draws on the real-world experience from Express experts and an analysis of employment, wage and public opinion data to identify four root causes of economic dissatisfaction:
1. The lower labor force participation rate distorts the unemployment situation.
2. Wages have been slow to recover following the Great Recession—and concerns of inequality are high.
3. Businesses are concerned about political and global uncertainties.
4. The recession of 2009 changed the way businesses operate. They are still suffering from the aftermath of the Great Recession. Many are holding back, sitting on cash and being cautious.
The paper features insights from Express owners and franchisees:

Chris Ashcraft, owner, Express Employment Professionals, Mobile, Alabama
Anne Woods, owner, Express Employment Professionals, Covina and Santa Fe Springs, California
Jim Goodwin, owner, Express Employment Professionals, Tupelo, Mississippi
The paper argues that despite a low unemployment rate, business leaders and government officials should not take their eyes off the ball. The president-elect, his administration and the new Congress should zero in on four key goals:
1. Getting more workers off the sidelines and back in the workforce with good-paying jobs by equipping them with the skills needed to do those jobs.
2. Raising wages—not artificially with minimum wage laws—but through a growing economy.
3. Relieving businesses of regulations, rules and barriers to success.
4. Encouraging businesses not to be overly cautious—in order to get over their hangover—while promoting policies that encourage re-investing in the economy.
"Unemployment has been cut in half since the Great Recession. The stock market is much stronger. But a majority of the country is dissatisfied with the direction the country is headed, and economic anxieties were a significant issue in the presidential election," said Bob Funk, CEO of Express, and a former chairman of the Federal Reserve Bank of Kansas City. "Our new president must address what's wrong with this economy below the surface if he's going to succeed."
If you would like to arrange an interview with Bob Funk to discuss this topic, please contact Sherry Kast at (405) 717-5966.
About Robert A. Funk Robert A. "Bob" Funk is chairman and chief executive officer of Express Employment Professionals. Headquartered in Oklahoma City, the international staffing company has more than 760 franchises in the U.S., Canada and South Africa. Under his leadership, Express has put more than 6 million people to work worldwide. Funk served as the Chairman of the Federal Reserve Bank of Kansas City and was also the Chairman of the Conference of Chairmen of the Federal Reserve.
About Express Employment Professionals
Express Employment Professionals puts people to work. It generated $3.02 billion in sales and employed a record 500,002 people in 2015. Its long-term goal is to put a million people to work annually.