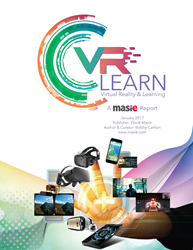 Saratoga Springs, NY (PRWEB) January 10, 2017
The MASIE Center has just completed the VRLearn Report: a 12-page open source, vendor-neutral analysis of Virtual Reality and Its Implications for Workplace Learning. It takes a crisp look at Virtual Reality, Augmented Reality, Simulation Reality, and other emerging technologies – all from the perspective of Workplace Learning. Is VR and Learning real, hyped, or "too soon"?
VRLearn Report: Virtual Reality and Learning Perspectives
Publisher: Elliott Masie
View, Download, or Print: http://www.masie.com/VRLearnReport
The MASIE Center teamed with colleagues around the world, who provided input and experimentation as the VRLearn Report was curated. Together, they tracked the interest in a wide range of emerging Virtual Reality technologies for this report, including Pokémon Go, Facebook's Oculus, 360 Degree Video, and more.
The upcoming Learning Innovations LAB at The MASIE Center in Saratoga Springs, NY will be dedicating a major component to hands-on exploration of Virtual Reality & Augmented Reality and Learning. The next open session is February 1 to 3 in Saratoga Springs, NY. Full details and registration at http://www.masie.com.