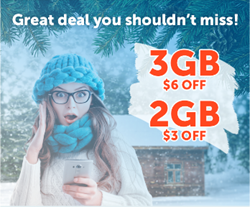 Atlanta, Georgia (PRWEB) January 12, 2017
This January, Tello launches a special offer for its heavy data users: the 3GB option included in the national plan will cost only $25 per month, instead of $31, whereas for 2GB per month, customers will pay $18 instead of $21 per month. The discount applies for the next 3 months of service, for any national plan that includes a 2GB or 3GB data option, both for current customers and for new Tello users, if they renew or purchase the plan by February 12, 2017.
The offer Tello launches is available to anyone willing to save money on their phone bill. Current Tello users will benefit from the lower data prices offered without having to move a finger, as Tello wants to officially thank them for their loyalty. Whereas new customers can try the service for a lower rate.
The Build Your Own Plan option Tello offers allows customers to choose the amount of minutes, texts and data they want. Here is how the offer influences the rates available on Tello.com: for unlimited calls, texts and 2GB data, customers will pay $36 per month, instead of $39, whereas for unlimited calls, texts and 3GB data, they will pay $43 per month, instead of $49, for the next three months. Therefore, Tello users can save up to $18 on their phone bill if they take advantage of this current offer. Plus, they can upgrade or downgrade their plan anytime, without any penalties, a possibility Tello competitors don't currently offer.
In addition to this, customers are free to stay as long as they want, as they don't have to sign any contract. Both for Pay As You Go and for custom plans, Tello promotes up-front rates, so customers don't need to worry about hidden fees or complex terms and conditions. What they see is what they get with Tello!
Customers can share data free of charge with their friends or with other devices. So, tethering is available with no extra costs. Tello also offers 24/7 live support, no robots involved. Tello's friendly Customer Service will answer any call in less than 5 seconds.
From its launch, Tello wireless network disrupted the mobile market with the "no fees whatsoever" policy, the fully customizable plans and last but not least, with the amazingly low rates. The new price cuts on data plans make Tello even more attractive for existing and future customers.
Tello is also a great option for international calls. Customers who need to make calls to other international destinations than Mexico and Canada (minutes to these two countries are included in national plans), can add Pay As You Go credit to their account. Pay As You Go credit comes with great rates per minute and a balance that never expires and rolls over from one month to another. For example, calls to China are only 1.2 ¢/min, calls to India 1.8 ¢/min and Cuba can be reached at 65 ¢/min.
If users want to stay up to date with all offers and news, they can follow Tello's social media channels:
*http://www.facebook.com/TelloMobile
*http://www.twitter.com/TelloMobile
About Tello.com
Tello.com is a telecom provider newly launched on the US market. The company behind Tello is also present in the UK, serving customers through its Tello.co.uk website.
Both Tello.com & Tello.co.uk are designed by KeepCalling, a global telecommunications company registered in 2002 in USA. Presently, KeepCalling provides its services to hundreds of thousands of consumers and businesses, with a focus on customer satisfaction. KeepCalling has been listed by Inc 5000 as one of the fastest growing companies in the USA for 5 consecutive years. In 2015 the company registered a revenue increase of over 200% from 2011 to 2014.