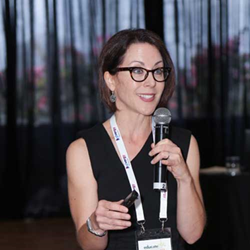 "As a leader in the field and the person who literally wrote the book on international alumni relations, she will be a considerable asset to Academic Assembly."
New York, NY (PRWEB) January 13, 2017
Academic Assembly, Inc., a provider of global strategic business services for educational institutions, announced today that it has appointed Dr. Gretchen Dobson as Vice President, International Alumni & Graduate Services and Managing Director, Australia.
Academic Assembly's mission is to simplify the challenges of global enterprise by providing a suite of services customized to the needs of its institutional clients. The International Alumni & Graduate Services Division is a critical piece of the Company's business strategy. International alumni comprise a key community which is of strategic importance to educational institutions of all sizes and descriptions. International alumni represent an under-leveraged asset of significant strategic potential. Academic Assembly helps universities, colleges and schools locate international alumni and then build and maintain a lifelong, even multi-generational relationship.  Whether tracking down lost alumni, discovering, recruiting and retaining more international alumni volunteers, or creating an infrastructure to support both short and long-term alumni relations, in the end, Academic Assembly's goal is to help build alumni into a successful platform to extend an institution's global success.
"We are delighted to welcome Gretchen on board as head of our International Alumni & Graduate Services Division," said Mitch Leventhal, Chairman of Academic Assembly. "As a leader in the field and the person who literally wrote the book on international alumni relations, she will be a considerable asset to Academic Assembly."
For over 23 years Dr. Gretchen Dobson has led institutions, governments and member-based organizations towards sustainable international alumni engagement strategies and solutions. Gretchen also provides professional coaching for international alumni relations, development, admissions and academic officers new to global engagement practices. She is the author of the leading texts on International Alumni Relations:  Being Global: Making the Case for International Alumni Relations (CASE Books, 2011), the International Travel Handbook: Engaging Constituents Abroad (Academic Impressions, 2014), and editor of Staying Global: How International Alumni Relations Advances the Agenda (EAIE, 2015). Gretchen Dobson has been recognized by the Chronicle of Higher Education as one of the leading "Innovators in Internationalization" for her work at Tufts University (USA).
"Joining Academic Assembly will enable me to offer a more comprehensive and enhanced suite of products services to institutions worldwide," stated Gretchen Dobson. "Academic Assembly is an exciting company and I am pleased to have the opportunity to become part of a team of experienced industry professionals, who are bringing innovation to the field of higher education."
Prior to joining Academic Assembly, Dr. Dobson founded Gretchen Dobson, LLC where she worked with educational institutions, non-profit member organizations and international exchange programs, from Australia, to Africa, to Europe and North America to facilitate international alumni engagement, student recruitment, and academic partnerships. Prior to that, Gretchen worked for a decade at Tufts University..
Gretchen Dobson serves as Board Chair of United Planet, a network of leaders and volunteers fostering cross-cultural understanding and addressing shared challenges to unite the world in a community beyond borders. She received her Bachelor's and Master's degrees from Boston College, and her Doctorate in Higher Education Management from the University of Pennsylvania. Gretchen Dobson is based in Brisbane, Australia.
About Academic Assembly
Academic Assembly provides solutions to educational institutions seeking to better manage and grow their global operations.  Academic Assembly helps institutions manage global operations, one piece at a time, supplementing existing resources and providing a scalable approach to achieve strategic objectives. Academic Assembly's mission is to simplify the challenges of global enterprise by providing a suite of solutions customized to the needs of academic institutions, that are designed to boost institutional success. Services include professional development and training, alumni development and relations, international student recruitment, strategic planning and business services. Please contact us for a presentation of our capabilities and a discussion of what your institution needs to better compete globally