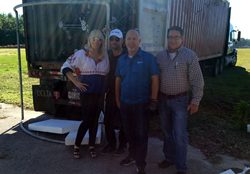 Auburndale, Florida (PRWEB) January 12, 2017
The first shipment of parts to the new Elite Cable Park, the centerpiece of the new USA Water Sports Complex, arrived at Lake Myrtle this morning.
Aktion Parks, a subsidiary of Correct Craft, and the USA Water Ski Foundation (USA-WSF) are working together to create the water sports complex. Representatives from Aktion Parks, USA-WSF, Ski Rixen and partner Five Star Family Growers, were on site when the shipment arrived.
Elite Cable Park will be part of USA-WSF's new headquarters and training center to be built at the city of Auburndale's $25 million Lake Myrtle Sports Complex. The complex will accommodate multiple water ski and wake sports disciplines.
Situated on Lake Myrtle, a beautiful 76-acre freshwater lake, ECP will be staffed with experienced coaches offering lessons in wakeboarding, wakesurfing, water skiing and other watersports of all skill levels. Elite Cable Park will be the third park for Aktion Parks. Aktion's other world famous parks include the Orlando Watersports Complex and Miami Watersports Complex.
We will be keeping you informed so you can follow the progress of the new water sports complex that will be fully operational in 2018.
Photo: Curtesy of USA-WSF - Representatives from Aktion Parks, USA-WSF, Ski Rixen and Five Star Family Growers were onsite for the arrival.