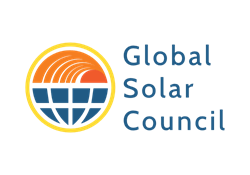 The Global Solar Council's mission is to champion the rapid adoption of solar energy around the world through collaboration, education and training.
Washington, DC (PRWEB) January 15, 2017
The Global Solar Council (GSC) announced the release of its Inaugural Quarterly Report. A copy of the report is available at http://www.globalsolarcouncil.org.
"The Global Solar Council Quarterly Report is an important educational tool and will quickly become essential reading on solar energy policy, markets and technology," said Bruce Douglas, GSC Chairman and Chief Operating Officer of SolarPower Europe.
Each issue will include national and regional policy and market updates. "We'll hear directly from solar associations around the world about key issues in their home markets," said John Smirnow, GSC Secretary-General. "And we're fortunate to also have the support of leading corporations who will provide content on technology trends and other important topics such as equipment quality and reliability," said Mr. Smirnow. The report will include industry best practices and other educational tools.
"This report underscores the strength of collaboration and our success in establishing the Global Solar Council as the principal international voice of the solar industry," said Gong Shan Zhu, GSC Chairman-Elect, Chairman of the Asian Photovoltaic Industry Association and Chairman of GCL Holdings.
The next version of the report will be issued in April and focus on solar PV as one of the best tools available to fight climate change, one of five GSC policy positions. "It is increasingly recognized that solar is not only a reliable and clean source of energy, it is the world's low-cost energy solution," said Jörg Mayer, Chairman of the GSC Strategy Committee and Managing Director of the German Solar Association (BSW). Over time, the Quarterly Report will touch upon each of the GSC's policy positions and recommendations.
About Global Solar Council - The Global Solar Council is a non-profit organization founded in 2015 to coordinate the international advocacy efforts of the world's solar energy associations. Its goal is to champion the rapid and wide-scale adoption of solar energy through cooperation, education and training, see http://www.globalsolarcouncil.org.
Media Contact: John Smirnow, jsmirnow(at)globalsolarcouncil(dot)org, (202) 213-6084