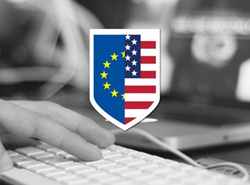 (PRWEB) January 19, 2017
HighRadius is pleased to announce that it has obtained certification to the EU Privacy Shield this past fall as part of its global data strategy. The certification is another step to support the rapid global expansion and high demand for the company's products and services across the Eurozone and the larger European Union.
"HighRadius takes seriously the privacy and security of data, and as such, we take the steps necessary to ensure that the right levels of protection are in place," says Sashi Narahari, CEO and President of HighRadius. "Compliance with the EU Privacy Shield assures our European and global clients that any personal data that is processed is handled with the proper restrictions, accessibility and security. This certification is a key component of our global data transfer strategy."
The EU-U.S. Privacy Shield Framework, as set forth by the U.S. Department of Commerce regarding the collection, use, and retention of personal information transferred from EU member countries to companies in the United States, requires that participating U.S. companies have in place appropriate independent recourse mechanisms for dispute resolution. The Privacy Shield Framework provides a set of robust and enforceable protections for the personal data of EU individuals. The Framework provides transparency regarding how participating companies use personal data, strong U.S. government oversight, and increased cooperation with EU data protection authorities.
For more information on the HighRadius privacy policies please visit our website: https://www.highradius.com/privacy-policy/.
About HighRadius
HighRadius provides Financial Supply Chain Management (FSCM) software solutions to optimize receivables and payments functions such as credit, collections, cash application, deductions and eBilling. HighRadius Receivables Cloud and Payments Cloud solution suites are delivered as software-as-a-service (SaaS) in the cloud to automate the entire credit-to-cash cycle. HighRadius certified Accelerators for SAP receivables management enables large enterprises to achieve advanced business transformation initiatives and leverage their SAP investments with lower TCO. HighRadius solutions have a proven track record of reducing days sales outstanding (DSO), bad debit and increasing operation efficiency enabling companies to achieve an ROI in few months. For more information please visit http://www.highradius.com.