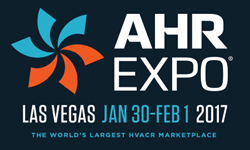 Quality Tools That Go To Work With You®
Las Vegas, NV (PRWEB) January 24, 2017
Uniweld Products is geared up for the 2017 AHR Expo in Las Vegas, NV. The show will take place from 10am-6pm on Jan 30 - Feb 1 at the Las Vegas Convention Center. This is the world's largest HVACR marketplace and it brings over 2,000 exhibiting companies and over 60,000 HVACR professionals together under one roof. The AHR Expo presents a great opportunity for manufacturers like Uniweld to have face to face time with their customers.
Uniweld will be showcasing their exciting new Hydraulic Expander Swage Tool Kit, Part# UEK1, which gives a technician the power to expand a piece of copper tubing with just one hand. You will want to visit the Uniweld booth to give this thing a squeeze.
The SmarTech™ Wireless Digital Manifold, Part# USMAN5, will also be on display. This tool communicates with your phone or tablet through a free SmarTech™ app. Take all the guess work out of system maintenance and give your brain a rest by letting SmarTech™ do all the calculations. The SmarTech™ Digital Micron Gauge, Part# UVG, will also be returning to the show. The micron gauge is compact, durable, extremely accurate, and works flawlessly with Uniweld's new Fast-Flo™ Hose Set. The new Fast-Flo™ Hose Set includes a red EZ Turn™ Hose, a blue EZ Turn™ Hose with an EZ Access "T" Fitting™ built into the middle of the hose for convenient micron gauge connection and simplified hose purging. This hose set comes standard with the SmarTech™ Digital Manifold and the Aluminum Spirit Manifold, or is offered as a three hose set.
Stop by Uniweld's booth #C4106 for a hands-on experience with the SmarTech™ Digital Manifold and the other great tools being shown this year. We hope to see you at the show in Las Vegas!