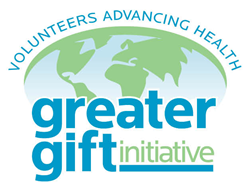 The mission of GGI is incredibly important to the overall healthcare industry and signifies their commitment to ensure every child is appropriately vaccinated
Winston-Salem, NC (PRWEB) February 07, 2017
The Greater Gift Initiative, Inc., (GGI) a Winston-Salem, NC 501(c)3 non-profit announced today it donated 10,580 life-saving vaccines in 2016. The mission of Greater Gift Initiative is to advance global health and highlight the greater good of clinical trial participation by gifting a vaccine to a child in honor of every clinical trial volunteer and those clinical research professionals who make research a reality. Since 2010, Greater Gift Initiative has donated over 77,000 vaccines to children in developing countries as a way to give back and thank the volunteers who participate in clinical trials while contributing to the advancement of health worldwide.
Greater Gift Initiative currently partners with supporters that include pharmaceutical sponsors, contract research organizations (CROs), integrated site networks, industry solutions providers, independent dedicated research sites, site management organizations, and independent principal investigators. These partners all contribute to the advancement of medicine through their various roles within the world of drug development.
GGI is poised for substantial expansion of both partners and services in 2017, in an effort to continue and build upon its' mission of raising awareness and advocacy for clinical research through the celebration of patients.
"The mission of GGI is incredibly important to the overall healthcare industry and signifies their commitment to ensure every child is appropriately vaccinated. It is a progressive step in 'paying it forward.' As GGI continues to partner with organizations that believe and support the mission and to further build the awareness of GGI, I'm confident in 2017, we'll see a 20%-30% increase from 2016 in vaccines administered to children; resulting in saving more lives, creating a healthier environment, and offering a better quality of life," says Joan Chambers, Chief Operating Officer of CenterWatch and GGI Board Member.
Immunization is widely recognized as one of the most successful and cost-effective health interventions ever
introduced, preventing between 2 and 3 million deaths every year according to the World Health
Organization(1). Currently, GGI is donating the pentavalent vaccine, which protects against diphtheria,
whooping cough, tetanus, hepatitis B, and haemophilus influenza type B Gavi estimates that investment in
pentavalent vaccination between 2011 and 2020 will avert 5.6 million deaths(2).
To learn more about Greater Gift Initiative, or to make a donation online, visit http://www.greatergiftinitiative.org
About Greater Gift Initiative, Inc.
The mission of Greater Gift Initiative, Inc. is to advance global health and highlight the greater good of clinical trial participation by gifting a vaccine to a child in honor of every clinical trial volunteer, under the motto "Volunteers Advancing Health."
1 World Health Organization: http://www.who.int/topics/immunization/en/
2 Gavi Welcomes Price Trend for Pentavalent Vaccine. 26 May 2016:
http://www.gavi.org/library/news/statements/2016/gavi-welcomes-price-trend-for-pentavalent-vaccine/