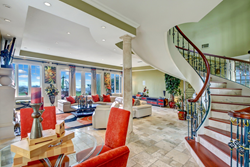 There's a sense of resolution sellers feel when they have a defined sale date... they know what's going to happen and when, and they can plan accordingly. It's a relief.
Gadsden, AL (PRWEB) January 19, 2017
Tranzon's number of private-owner sales almost tripled last year as individuals looked for alternatives to the traditional list-and-wait sales method.
Out of the 60 properties the firm is currently marketing on their website, over two-thirds are privately owned, including several premium properties:

Oceanfront villa in the Dominican Republic
Manufacturing facility in New Jersey
Historic Victorian home in St. Augustine, FL
Golf course in Pennsylvania
Corporate office headquarters in Illinois
Riverfront cabin in the Blue Ridge mountains
Oceanfront estates in Florida and Massachussetts
This is quite a shift for the company, which has historically made its mark by working with banks and other large institutions. But President and CEO Scott King says he is not surprised by Tranzon's ability to capitalize on the changing market.
"Tranzon is unique," says King. "We have offices all over the country, staffed with people who know real estate and care about their clients. So we can give those clients the local market expertise and service they'd get with a traditional realtor, as well as the exposure and the level of control over the process that they get with the auction method. This is becoming a compelling option for private sellers."
The auction method certainly has seen increasing success in recent years among individuals looking to sell property on their own time table. Tranzon reported steady – and rapid – gains in private-owner sales, from 16% of their sales in 2014 to 40% in 2016. What was once used primarily by financial and corporate institutions, often to sell distressed assets, has become a legitimate – and an attractive – option for individuals who don't have to sell, but want to.
King explains. "Sellers benefit from getting all the interested buyers together in one place, at one time – whether it's onsite or online – and having them compete over who gets to buy their property. Smart individuals are using the auction process to take advantage of an improving real estate market that's creating high demand."
A study published in Real Estate Economics from Carnegie Mellon's Tepper School of Business backs this up. The study concludes that in favorable market conditions, the competition generated by interested bidders results in higher average returns than those of real estate sales negotiated through traditional methods.
And it's not just the property prices that can benefit from an auction strategy. "There's a sense of resolution sellers feel when they have a defined sale date. These individuals who hire our firm are often in transition, and they're ready to move on to the next chapter of their lives. With the auction method, they know what's going to happen and when, and they can plan accordingly. It's a relief."
______________________________________________________________________
About Tranzon
Tranzon is one of the largest real estate auction companies in the country, with 30 offices coast-to-coast. Tranzon's accomplished auction professionals are widely recognized as leaders in the auction industry. All Tranzon companies are independently owned and operated.