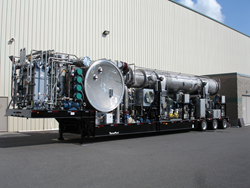 "The unique layout of this complete MVR evaporator system makes it the first "plug-and-play" unit to be able to be transported to remote areas for resolving temporary evaporation needs." - Artur Zimmer
EASTON, Md. (PRWEB) January 19, 2017
Caloris Engineering LLC has announced that the CALORIS AGILIX(TM) Mobile Evaporator has been awarded a patent from the U.S. Patent and Trademark Office.
Artur Zimmer, CEO and co-founder of Caloris Engineering, is listed as the inventor on U.S. Patent 9,487,415 for a Mobile Mechanical Vapor Recompression Evaporator. Mechanical Vapor Recompression (MVR) generates heating vapors by mechanically recompressing the water vapors evaporated from the product or waste stream being processed by the evaporator.
"The unique layout of this complete MVR evaporator system makes it the first "plug-and-play" unit to be able to be transported to remote areas for resolving temporary evaporation needs," Zimmer said.
The CALORIS AGILIX(TM) Mobile Evaporator is a complete wastewater evaporation system mounted onto a single flatbed trailer so it can reach almost any location. Applications include evaporating fracking fluids from oil and gas wells, draining wastewater ponds, and a wide spectrum of other remedial needs.
Featuring forced circulation evaporator technology, the CALORIS AGILIX(TM) Mobile Evaporator can be hooked up to the power grid or to a fuel-powered electric generator, meaning it can be used virtually anywhere. It can begin continuous operation within hours of arriving on site and is monitored remotely.
A unique low headroom horizontal vapor separator is the key to the very compact configuration of the entire unit on one trailer.
The CALORIS AGILIX(TM) Mobile Evaporator is capable of evaporating water at rates of up to 20,000 pounds per hour (40 gallons per minute). Depending on the application, the CALORIS AGILIX(TM) Mobile Evaporator can run at an efficiency of up to 16 gallons of water evaporated per kilowatt of electric power consumed.
The CALORIS AGILIX(TM) Mobile Evaporator is available for purchase or rent. For more information, please visit http://caloris.com/caloris-agilix-mobile-evaporator/
ABOUT CALORIS ENGINEERING, LLC
Caloris Engineering is a process technology company that engineers and builds thermal and membrane processing systems to treat industrial wastewater, including Caloris Thin Film Dryers (TFDs) that convert brines into powders. Caloris equipment also supports companies in the juice, dairy and other food industries to create the best achievable concentrates and a wide spectrum of powders produced on Caloris Compact Multiple Stage (CMS) dryers. Caloris technologies are consistently energy efficient for lower costs and reduced carbon footprints. Learn more at http://www.caloris.com.
Follow Caloris on Facebook & LinkedIn:
http://facebook.com/calorisengineering
http://www.linkedin.com/company/2209533