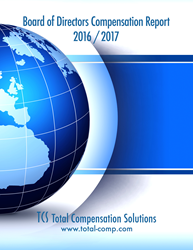 Armonk, NY (PRWEB) January 19, 2017
Board of Directors pay continues its upward trend according to a study published by Total Compensation Solutions (TCS). The Board compensation report shows increases of approximately 7 to 8 percent from last year for annual retainers for the Chairman, and Regular Board Members and an increase of 14.4% for Lead Director annual retainers.
The study reveals that annual retainers are the most prevalent form of Board compensation paid in cash with 58% of companies reporting use of annual retainers only for the cash portion of their board pay. Another thirty percent of companies reported using a combination of annual retainers and meeting fees to reward Directors who brings their expertise to the table.
The 2016/2017 Board of Directors Compensation Report reveals the compensation and governance practices of 505 companies. TCS compiled data on publicly traded companies in multiple industry groups (Banking, Biotechnology, Chemical, Consumer Goods, Energy, Financial, Healthcare, Insurance, Leisure, Media & Technology). The study reports on cash compensation as well as equity compensation. This includes: initial and continuing stock grants; board structure (number of directors and meetings); committee structure; and governance policies.
"In recent years, we have noticed a trend with our clients to review Board compensation as frequently as executive compensation" notes Paul Gavejian, Managing Director at TCS. "We've seen an increase in the amount of time Chairman and Board members are spending on board related responsibilities and companies realize it's in their best interest to know what the competitive market is for Board members that bring expertise in a functional area to the Board room" he adds.
Tom Bailey, Project Director and author of the study noted several additional points including:

About 44 percent of the companies in this study combine the role of Chairman and CEO in spite of guidelines from shareholder groups.
About 42 percent of the companies in this study report having a lead director and there is a strong correlation to companies with combined Chairman / CEO roles and having a Lead Director.
Fifteen percent of companies in this study have an age limit for Board members
Sixty-three percent of companies in this study have stock ownership requirements for Board members.
Copies of the 2016/2017 Board of Directors Compensation Report are available from TCS (http://www.total-comp.com). If you have questions regarding this report, please call TCS at (914) 730-7300 or email questions to: Tom Bailey tbailey@total-comp.com or Paul Gavejian pgavejian(at)total-comp(dot)com.
Total Compensation Solutions is an independent human resources consulting firm that assists clients in achieving their strategic compensation objectives. The firm uses market data to identify best practices in a variety of topical areas including: board compensation; executive, middle management and staff compensation; performance management; organization structure; health and welfare; and retirement benefits. From offices in Armonk, NY, TCS gathers and reports information on compensation, personnel practices and benefits and as a trusted advisor to management applies the most effective, market-driven solution to each organization's unique set of circumstances. TCS provides comprehensive compensation consulting services to organizations in a variety of industries.