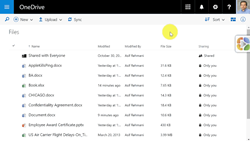 (PRWEB) January 19, 2017
Just-in-Time Learning® provider to introduce its latest in-context, on-demand product to Microsoft users during an upcoming webinar.
Enterprises in many industries have been migrating their workforces to the cloud with Microsoft's Office 365 online platform. While migrations present challenges in several areas, employee transition has been a key stumbling point.
Despite a robust training ecosystem, employee onboarding to Microsoft Office 365 has not always resulted in a smooth transition. Individual users have also struggled at times to quickly adopt the online platform. Now, both enterprises and personal users have a solution that helps them learn Office 365 apps inside the user environment. And they can see the solution for themselves by attending a detailed, online public presentation of the VisualSP Training for Office 365 to be held on January 24, 2017.
VisualSP, a leader in helping users adopt Microsoft SharePoint, has extended its successful on-demand learning approach to the entire Office 365 suite because the company realized there is a broader need among both business and personal users.
"We have found that the same learning challenges that users face with respect to learning SharePoint exist for Office 365," said VisualSP founder and CEO Asif Rehmani. "Now, we want to help enterprise workers, but also individuals who struggle with learning the platform."
Two of the critical failure points of traditional training methods are memory retention and attention spans, according to Rehmani, an experienced SharePoint trainer and Microsoft MVP. "Many reports indicate that much of what we learn in a classroom is lost within hours after we leave the training room. And studies have shown that the average attention span has diminished by over 50 percent since 1998."
VisualSP Chief Revenue Officer Mark McDermott explained the need to host a public event to introduce the revolutionary product. "Company leadership acknowledged that a release like this – a product that has never been seen before – was well-suited for a virtual presentation. People will be curious, they'll have questions. We wanted to make this grand launch interactive, and provide as many details as possible."
VisualSP's grand launch webinar will be held at 12:00 – 1:00 pm EST, Tuesday, January, 24. To reserve your seat, visit the webinar registration page. Attendance is limited, so interested parties are encouraged to sign up early.
To learn more about the breakthrough VisualSP Training for Office 365 solution, click here.
*****
VisualSP® has been a leader in e-learning/performance support integration with SharePoint since 2004. The company introduced its on-demand, inline Help System for SharePoint to assist end users in developing mastery over common SharePoint tasks. In 2016, VisualSP expanded its technology solutions to online Microsoft products. The company is led by Microsoft MVP and MCT Asif Rehmani. To learn more, visit http://www.visualsp.com.