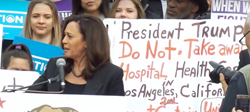 "Let's get real now, 30 million people insured through ACA and many millions employed by health care facilities will be jeopardized by any Congressional or Presidential repeal unless improved version is implemented."
Los Angeles (PRWEB) January 19, 2017
Next week after January 20th, the fear for many is that the humane Affordable Care Act will be repealed by Congressional political games that circumvent health needs of over 30 million. Many interviews with Dr. Carol Francis at the Los Angeles "Our First Stand Rally" capture the human anxieties and needs government public servants were suppose to prioritize. Interviews provided below.
Among those present was Senator Kamala Harris who reminded the many hundreds in attendance that "pre-existing conditions" were being repealed radically by the Senate and Congress last week. Harris also described the shameful attitudes of the members in the grand Congressional Assembly rooms while they seemed to salivate about ending Obama's work with grand destruction without wise and human regard for the 30 million being assisted by the ACA. Video at this link: https://www.youtube.com/watch?v=7ScOgYspJDY.
Connie Rice, union leaders, hospital administrations, nurses and doctors also spoke to an anxious and determined crowd of professionals and patients who advocated that Healthcare is a humane and constitutional right now jeopardized by the political careless games of Congressional repeals. Video footage: https://www.youtube.com/watch?v=64EYqB0bRaw
After the rally, Dr. Carol Francis interviewed the diverse participants who gathered in Los Angeles at Sanders' "Our First Stand Rally." Millions across the nation attended passionately in efforts to dissuade public officials from harming 30 million US citizens and their children. These video interviews described below remain open-source and available for use to help media and websites address these issues include the following.
As discussed at the Rally and by these individual representatives, Los Angeles' millions of Latinos were represented as patients and employees. Latino US citizens make up a large group of the 63,000 employed as health care professionals which are the jobs related developed related to the ACA in Los Angeles, as explained at this rally Sunday, January 15, 2017. More details available at this link: https://www.youtube.com/watch?v=EyDKa3ElCCY .
Elderly and their children pined the likely loss of quality of life. Additionally, they discussed the egregious nature of removing medicare or hampering social security resources paid into social security for decades associated to this current Congressional and Senatorial agendas. Their discussion is at this link: https://www.youtube.com/watch?v=rDQ5oG8q6eo .
Socially minded citizens and professional health caregivers explained details public servants need to recognize about their constituents. Professional recall for instance the horrors and expensiveness of High Risk Pools proposed by Ryan last week. Video interview link is https://www.youtube.com/watch?v=uwKo0P1IRmw as well as https://www.youtube.com/watch?v=MKopDDrYweQ&t=67s.
Self-employed and small business owners also will suffer at the hands of eliminating Affordable Care Act as discussed by Jonathan Fields at this video link https://www.youtube.com/watch?v=mj7gXiTBo3Q.