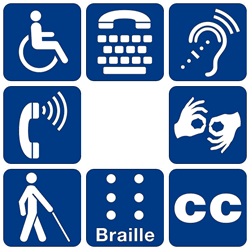 We stand together with the cast of Hamilton and truly hope that this show that has inspired the World, will make their show available to everyone and extend our common American values of inclusion and accommodation.
New York, New York (PRWEB) January 25, 2017
On January 23, 2017, a class-action lawsuit was filed in Federal District Court for the Southern District of New York alleging that audio descriptions are not provided in the musical "Hamilton" for blind and visually impaired individuals, in violation of the Americans with Disabilities Act.
The musical "Hamilton" is one of the most successful Broadway musicals ever staged. In the lawsuit, Plaintiff alleged that although audio description technology is widely used in theaters throughout the United States, "Hamilton" has failed to provide blind individuals equal access to the Broadway experience at their performances at the Richard Rodgers Theater.
Audio Description Technology and Services are designed to enhance the live play experience for those that are visual impaired by helping them discern scenes that include significant visual elements.
C.K. Lee, Esq. of Lee Litigation Group, PLLC, and Scott R. Dinin, Esq., filed the lawsuit on behalf of Mark B. Lasser, who is blind and alleged being denied audio description service.In the court documents, Mr. Lasser alleged that the Box Office informed him the interpretation services were not available for the blind and visually impaired in order to attend the musical.
In the court document, Plaintiff alleged that through its failure to provide functional audio description services and remedial measures, the musical "Hamilton" is excluding blind individuals from full and equal access to its services.
Mr. Lee states, "Given the Hamilton cast's well known political sensitivities, we hope that a mutual resolution will be attained for the lawsuit to address Mr. Lasser's accessibility concerns."
"Broadening the reach Broadway Musicals will only make America a better and more inclusive place," states Scott R. Dinin.
MARK B. LASSER, on behalf of himself and all others similarly situated, v. NEDERLANDER ORGANIZATION, INC., HAMILTON UPTOWN LIMITED LIABILITY COMPANY, BASELINE THEATRICAL LIMITED LIABILITY COMPANY, and JOHN DOES #1-4 (Case No.:17-cv-490)