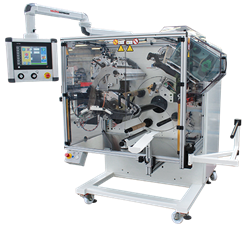 The use of technology to continuously improve our productivity is a key differentiator for DLS in the market.
Itasca, IL (PRWEB) January 24, 2017
In an increasingly on-demand world, label converters are finding new ways to make short length label rolls quickly and efficiently. Traditional manufacturing technology has not proven to be cost-effective for this product due to slow cycle speeds and manual labor intervention. Noting increased customer interest in short length label rolls for mobile printers and retail applications, DLS has invested in this growing trend. Their acquisition of six auto-loading, quick cycle turret rewinders will contribute significantly in their effort to provide businesses with short length label rolls at a reasonable cost and with fast turnaround times.
"The use of technology to continuously improve our productivity is a key differentiator for DLS in the market," stated Jim Kersten, Diversified's CEO. "We have invested heavily in equipment to increase the speed, quality and consistency of our products without the need for additional personnel which, after materials, represents our second largest cost of manufacturing. This savings enables our distributors to provide lower cost options to their end-user customers," continued Kersten. "Our new, highly automated turrets are proving to fit this model perfectly."
Automatic Turret Rewinder Benefits
· Allows short length, lower quantity rolls to be produced with great efficiency.
· Cores, including small diameter ones, are automatically applied the rewind shaft without manual intervention, reducing production costs.
· Faster turret cycle times allow shorter length rolls to be run at higher production speeds for maximum efficiency.
· In-line roll sealing such as low-tack glue and removable closure labels provide multiple options to meet specific customer application needs.
DLS is confident that the investment in these new automatic turret rewinders will enable the company to better serve the needs of their distributor customers in this important short length label roll business segment.
Watch one of their new rewinders in action on the DLS YouTube page.
About DLS
Since 1985, DLS has been a preferred B2B supplier of high-quality, custom-printed pressure sensitive labels. All products, from blank labels to full color high-definition labels, are produced utilizing the latest in flexographic and digital printing technologies. Exemplar of their motto "We only succeed when you do," DLS's dedicated team is passionate about labels and is willing to share their expertise with partnered distributors to help them grow their business. Located in five states and headquartered in Itasca, Illinois, DLS is well-situated to offer products to customers nationwide. To learn more about the dedicated team at DLS, its exceptional offerings and services, or to receive a quote in 3 hours or less, please visit teamdls.com or call 800.397.3013.