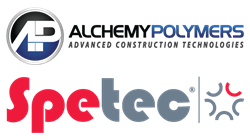 Tucker, Georgia (PRWEB) January 24, 2017
Resiplast US Inc. (HQ in Cypress, Texas) and Alchemy Polymers (HQ in Tucker, Georgia) have concluded a joint-venture by which the business activities of Resiplast US Inc. and those of Alchemy Polymers will be centralized in a new company: Alchemy-Spetec.
The joint-venture will be created on a 50/50 basis and will be led by Stephen Barton, the owner and managing director of Alchemy Polymers.
Resiplast US Inc. started its activities in the United States early 2014 selling the Spetec range of injection resins manufactured in the Belgian production unit of Resiplast.
Because of the increased business activity of Resiplast in the States, the company decided to start local manufacturing of these products in the States, hence the creation of the joint-venture.
The Spetec range of products will be produced in the factory of Alchemy Polymers, which will be contributed to the new company. In addition, Alchemy-Spetec will allow Alchemy Polymers and Resiplast to manufacture and market complementary products and to drastically strengthen their presence in the US market.
The integration and strengthening of the commercial teams of Alchemy Polymers and Resiplast US will be a benefit to the growth of the new company in the market.
Resiplast Inc. is a subsidiary of the Belgian Koramic Construction Chemicals.
Quote from Stephen Barton, owner and managing director of Alchemy Polymers:
"I am very happy with the alliance with the Koramic-group and more specifically with the engagement of the management team of Koramic Construction Chemicals. Besides bringing in a complementary and new range of products, they contribute to the new company with a vast knowledge and experience in our industry."
Quote from Guy Colson, CEO of Koramic Construction Chemicals:
"I am very pleased that I can work together with Stephen Barton who I've come to know as an excellent entrepreneur and manager. The synergies created by this joint-venture will provide extra benefits for our customers. Together we will be able to grow our joint business faster."
Alchemy Polymers is a U.S. based manufacturer of polyurethane resins. The company started in 2013 and specializes in injection resins for soil stabilization, slab lifting and leak sealing.
Koramic Construction Chemicals, a division of the Koramic Group, combines the activities of all construction chemical related business of the group; its main brands are Spetec, Resiplast and Cermix.
Koramic Construction Chemicals has factories in Belgium, France, Switzerland and Turkey.
Spetec specifically focuses on injection resins for leak sealing and soil stabilization.
The Koramic Group is a Belgian privately owned group active in a wide range of industrial activities and employing > 6000 people in 15 countries.
Alchemy-Spetec is the first industrial company of the Koramic Group in the States.
***
For more information, please contact :
Stephen Barton
404-821-2648
sbarton(at)alchemypolymers.com
Guy Colson
+32477873983
Guy.Colson(at)koramic.be