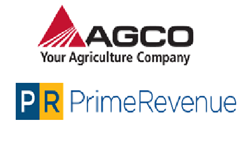 This award is a testament to AGCO's commitment to offering the best financing solutions, and in turn increasing access to capital for our own initiatives. Feedback from suppliers has been very favorable indicating the program's tracking to be a win-win!
Duluth/Atlanta, Georgia (PRWEB) January 24, 2017
AGCO, Your Agriculture Company, a worldwide manufacturer and distributor of agricultural equipment and solutions, and PrimeRevenue, the leading global platform for working capital finance solutions, have been recognized for "Best Customer Implementation of Supply Chain Financing Solution" by Global Finance magazine. The joint award was presented last week at the 2017 BAFT (Bankers Association for Finance and Trade) Europe Bank to Bank Forum conference luncheon, at the Ritz Hotel in Madrid, Spain.
For the tenth consecutive year, Global Finance's editorial team has ranked the "World's Best Supply Chain Finance Providers."
"We are very honored to receive this recognition together with our valued partner PrimeRevenue," said Dustin Barney, Purchasing Manager, AGCO Corporation. "This award is a testament to AGCO's commitment to offering the most favorable industry practices and best financing solutions to our suppliers, and in turn increasing access to capital for our own initiatives. Feedback from our suppliers has been very favorable indicating the program's tracking to be a real win-win!"
AGCO and PrimeRevenue successfully brought the supply chain finance program online in just months and had a measurable impact on working capital. Generating positive cash flow remains an extremely important operational priority for AGCO. By using PrimeRevenue's supply chain finance platform, AGCO can free up capital to maintain significant investments in other areas of its business.
PrimeRevenue also won Global Finance magazine's "Best Platform Connecting Buyers, Suppliers and Financial Institutions" global award this year. "Key to us winning these coveted awards are the partnerships we form with world-class partners such as AGCO," said PJ Bain, CEO of PrimeRevenue. "It truly is impressive how quickly and effectively AGCO brought together a cross-functional team of finance, treasury, accounts payable, IT and purchasing executives to work with our experts on a smooth deployment in multiple languages and currencies, initially in the U.S. and potentially abroad."
Global Finance's editorial review board – with input from industry analysts, corporate executives and technology experts – selected the best providers of supply chain finance and management services. A variety of subjective and objective criteria were used for choosing the winners. In addition, a poll of Global Finance's readership was conducted to increase the accuracy and reliability of the results.
About AGCO
AGCO is a global leader in the design, manufacture and distribution of agricultural solutions and supports more productive farming through its full line of equipment and related services. AGCO products are sold through five core brands, Challenger®, Fendt®, GSI®, Massey Ferguson® and Valtra®, supported by Fuse® precision technologies and farm optimization services, and are distributed globally through a combination of approximately 3,000 independent dealers and distributors in more than 140 countries. Founded in 1990, AGCO is headquartered in Duluth, GA, USA. In 2015, AGCO had net sales of $7.5 billion. For more information, visit http://www.AGCOcorp.com. For company news, information and events, please follow us on Twitter: @AGCOCorp. For financial news on Twitter, please follow the hashtag #AGCOIR.
About PrimeRevenue, Inc.
PrimeRevenue makes the global economy more efficient by unlocking cash in corporate financial supply chains. Headquartered in Atlanta, with offices in Prague, Hong Kong & London, PrimeRevenue manages $100 billion in transactions every year and frees up cash for over 20,000 clients to invest in their company's future, in over 70 countries. Additional information about PrimeRevenue can be found at http://www.primerevenue.com | YouTube: http://www.youtube.com/primerevenuefinance | Twitter: @primerevenue | LinkedIn: http://www.linkedin.com/company/primerevenue.
About Global Finance
Global Finance, founded in 1987, has a circulation of 50,050 and readers in 180 countries. Global Finance's audience includes senior corporate and financial officers responsible for making investment and strategic decisions at multinational companies and financial institutions. Global Finance also targets the 8,000 international portfolio investors responsible for more than 80% of all global assets under professional management. Its website — GFMag.com — offers analysis and articles that are the heritage of 29 years of experience in international financial markets. Global Finance is headquartered in New York, with offices around the world. Global Finance's awards programs regularly select the top performers among banks and other providers of financial services and have become a trusted standard of excellence for the global financial community.