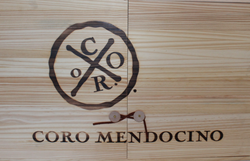 "The purpose of Coro is to highlight the quality of our Mendocino grapes and the beautiful well structured wines they produce." Hoss Milone, Consortium Marketeer
MENDOCINO COUNTY, C (PRWEB) January 25, 2017
Coro Mendocino, a collection of ultra-premium Zinfandel based blends that showcase the rich heritage and unique characteristics of Mendocino County, will continue their Winemaker Dinner Series on Saturday, February 25th, 2017 at the Golden Pig, in Hopland, CA. Coro Mendocino winemakers from Golden Vineyards, Graziano Winery and Barra of Mendocino will host the event at the newly established Golden Pig in Hopland.
"We are ecstatic to be hosting this Winemaker Series", states Hoss Milone, Marketing Manager for Coro Mendocino and Winemaker at Brutocao Cellars. "This three part Coro Winemaker Series is intended to showcase Coro and also offer our followers the opportunity to become more familiar with the individual Coro winemakers and the other wines they produce outside of the Coro protocol. The principal purpose of Coro is to highlight the quality of our Mendocino grapes and the beautiful well structured wines they produce. We are looking forward to sharing the Coro story with our expanding audience."
Winemakers Dennis Patton, Golden Vineyards; Greg Graziano, Graziano Family and Owen Smith, Barra of Mendocino will be pairing their Coro and non-Coro offerings with the flavorful culinary creations of Jeramie Wagar, Executive Chef of The Golden Pig, the newest restaurant in Hopland, California.
Milone advised that the first in the series occurred last November at Testa Vineyards and featured the Coro winemakers from Clos Du Bois, Testa and Parducci Vineyards. The third and final Winemaker dinner will take place on May 5th during Hopland Passport Weekend.
The blend, known as "Coro" -- inspired by the Latin root for "chorus" -- is the first, perhaps only, appellation-controlled blend in the United States. Every Coro wine is a signature blend, individually handcrafted from 100 percent Mendocino grapes, in strict accordance with the production protocols set forth by Consortium Mendocino. Zinfandel, the county's heritage varietal, must make up no more than 70 percent and no less than 40 percent of the wine. Nine other grape varieties, mostly Italian, may be included.
The Coro label was established in 2000 by a collection of liked-minded Mendocino County winemakers. Since then, twenty-one wineries have participated in the Consortium. The reviews for previous years have been effusive, calling the wines "smooth, lush, intense," "sophisticated & fun," and "rich, long and stylish."
All Coro Mendocino wines are aged a minimum of one year in the barrel and one in the bottle. Even then, no one can sip until the winemakers in the Consortium have blind-tasted every wine and determined that the wine is worthy of the Coro label.
Of course, no two Coro wines are ever exactly alike. Oenophiles will be the first to taste the 2014 vintage at the official Coro Release Party on June 24th. "Coro wines have evolved as full-bodied, fruit-forward wines that stand out as complex and different from standard varietal bottlings," said Dennis Patton, a founding Coro winemaker. "The Winemakers' dinners are an opportunity to introduce Coro winemakers to our fans and have them fall in love with our story and wines."
To purchase tickets, visit http://www.sipmendocino.com/Store/Event-Tickets
About Coro Mendocino
Established in 2000, Coro is the only American example of winemakers coming together to set standards for a class of wines to represent a particular wine region. That region is Mendocino County, a diverse area that encompasses a variety of climates and soils, and boasts a mixture of multi-generational winemakers with deep Italian roots alongside newcomers with varied backgrounds. Coro means chorus in Italian and it represents the crafting of the Mendocino terroir into wines that "sing" on the palate.
For more information about Coro Mendocino, please call (707) 485-8885 or visit http://www.coromendocino.com.
Like us on Facebook: facebook.com/COROMendocino
Follow us on Twitter: @COROMendocino